UCF was one of seven universities to be awarded funding from NASA's Minority University Research and Education Project Space Technology Artemis Research, or M-STAR, initiative this past year. The program is designed for minority-serving institutions that develop innovative technologies to support the Artemis mission.
As a result of this grant, 10 Knights had the opportunity to intern at NASA centers across the country for the summer. Each student completed a research project under the guidance of an industry and faculty advisor. The students and the majors they are pursuing are:
Oneilia Swaby '22: Ph.D. in Aerospace Engineering
Christopher Ngo '20: M.S. in Biological and Biomedical Sciences
Andrew Ady '20: M.S. in Biomedical Sciences – Cancer Biology
Perla Latorre-Suarez '21: M.S. in Aerospace Engineering
Jackson Asiatico: M.S. in Aerospace Engineering
Janice Zou: B.S. in Mechanical Engineering
Bryce Aparicio: B.S. in Mechanical Engineering
Emma Shafer: B.S. in Aerospace Engineering
Katrina Gucwa: B.S. in Aerospace Engineering
Andres Torres-Figueroa: B.S. in Aerospace Engineering
The student experiences varied — Shafer, Aparicio and Gucwa met NASA's first female launch director, Charlie Blackwell-Thompson, who also directed the Artemis 1 launch, while Swaby saw the technology that Neil Armstrong used to practice for his mission to the moon. But one experience they all shared is the amazing time they had learning about NASA from the inside. To share their insights, we highlight the research of six of the M-STAR interns and what they learned from their time at NASA.
Creating the Futuristic World of Tomorrow
Two months before Oneilia Swaby's seventh birthday, her family moved from Jamaica to America. While she has seen airplanes before, they had always been in the sky or at a distance. Seeing one up close, not to mention flying in one, sparked her curiosity.
"I remember the exhilaration I felt as the plane was accelerating to liftoff speeds," Swaby says. "I spent the entire flight staring out the window. I asked my mom multiple questions about planes: 'How did they fly? Why can't cars fly? Could a plane take me to the moon?' "
Now Swaby is pursuing her Ph.D. in aerospace engineering after graduating with her B.S. degree in the same field earlier this year. Shortly after graduation, she headed to the NASA Langley Research Center in Virginia along with grad students Perla Latorre-Suarez '21 and Jackson Asiatico. Her project focused on the development of multifunctional materials that can withstand the extreme environment of space — a perfect fit for the future materials researcher.
Her career goals include working in a laboratory as a lead researcher and becoming a college professor so that she can share her knowledge with future generations. Her interest in creating a better world for tomorrow goes back to her childhood, when she would watch her favorite space-age cartoon.
"One of my favorite cartoons was The Jetsons, a show about a family that lives in the futuristic world of tomorrow. Ever since I watched my first episode, I knew that I wanted to create a future where humans live on different planets and aircraft are the equivalent of cars," she says. "The closer I get to contributing to space colonization, the happier the little girl I used to be becomes."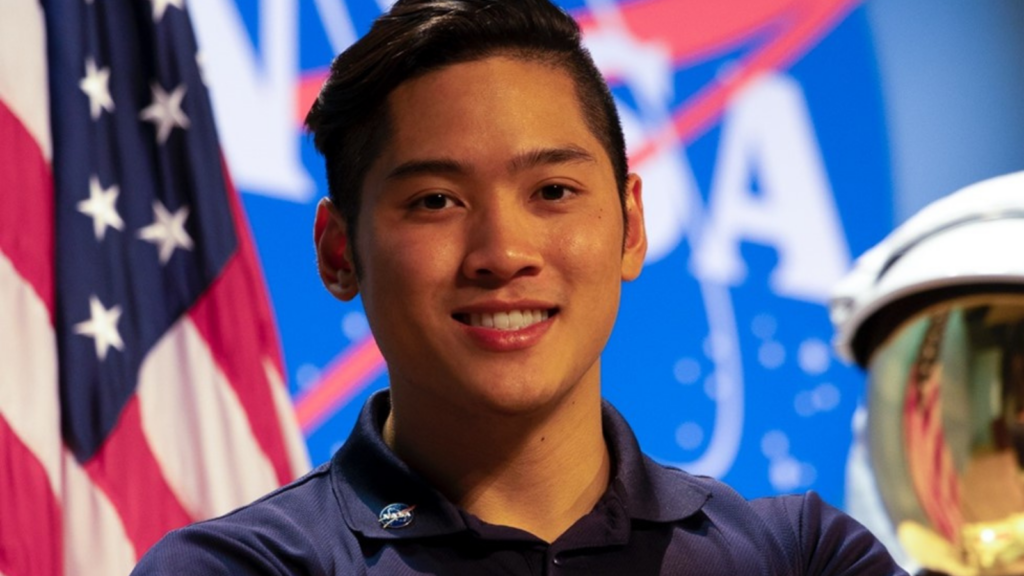 When Aerospace Meets Medicine
Technology, materials and spacecraft are important components of a flight, but so are the astronauts themselves. As a biological and biomedical sciences student, Christopher Ngo '20 focused his research on the health of astronauts, particularly the loss of bone mass and the alteration of bone physiology that occurs during space flight.
The trained firefighter and EMT has spent most of his time in the medical field specializing in emergency medicine. But under the mentorship of UCF College of Medicine Professor Melanie Coathup, and two biomedical scientists at the Johnson Space Center in Texas, Ngo was able to explore and contribute to projects in the areas of family medicine, orthopedics and aerospace medicine.
"Originally, I was naïve about the field of aerospace medicine," Ngo says. "However, through the opportunities afforded to me thanks to the M-STAR program, I have been able to connect with NASA flight surgeons, such as Dr. Joseph Dervay, who were able to show me the fascinating aspects and knowledge within the growing field of aerospace medicine."
The aspiring medical student was inspired to join the M-STAR program to learn more about the Human Health and Performance Directorate (HH&P) at NASA.
"HH&P is the primary organization focused on enhancing crew health and performance and mitigating the risks associated with human spaceflight," Ngo says. "The M-STAR program's ambitions to not only improve upon current space flight technology but to contribute to optimizing human health and performance throughout all phases of spaceflight is inspiring."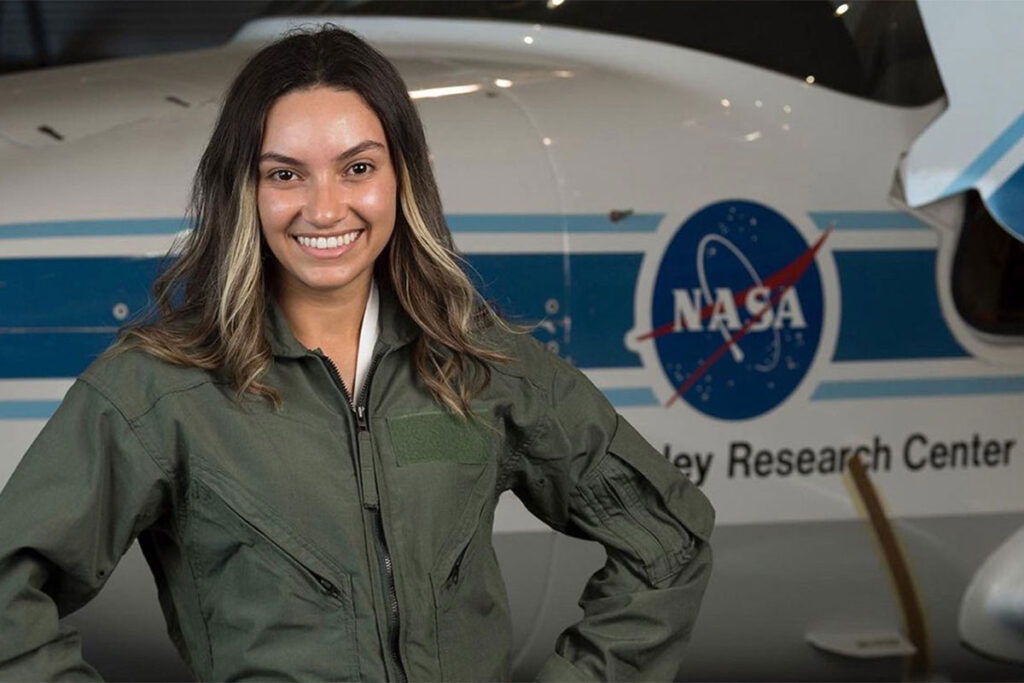 Protecting Vehicles for Lunar Exploration
Latorre-Suarez is no stranger to internships. She is a prior recipient of the Florida Space Grant Consortium Fellowship as well as the X-Force Fellowship. She was also recently named to Aviation Week Network's 20 Twenties list and lead a group of mechanical and aerospace engineering students to victory at the NASA MINDS event earlier this year.
Her leadership and research skills were put to good use at the Langley Research Center, where she assisted with the design of a protective coating for lunar vehicles. The coating would shield vehicles from abrasive lunar regolith, or dirt, which can adhere to the surface electrostatically and weaken the durability of the vehicle, potentially causing it to fail prematurely.
The overall goal of the coating is to keep astronauts safe, which is also Latorre-Suarez' goal as an aerospace engineer. The M-STAR internship introduced her to new experiments, new equipment and new ways to communicate and collaborate with others, which only helped her grow as a professional.
"This experience made me a stronger professional and researcher," she says. "I learned how to think beyond the expected experimental results."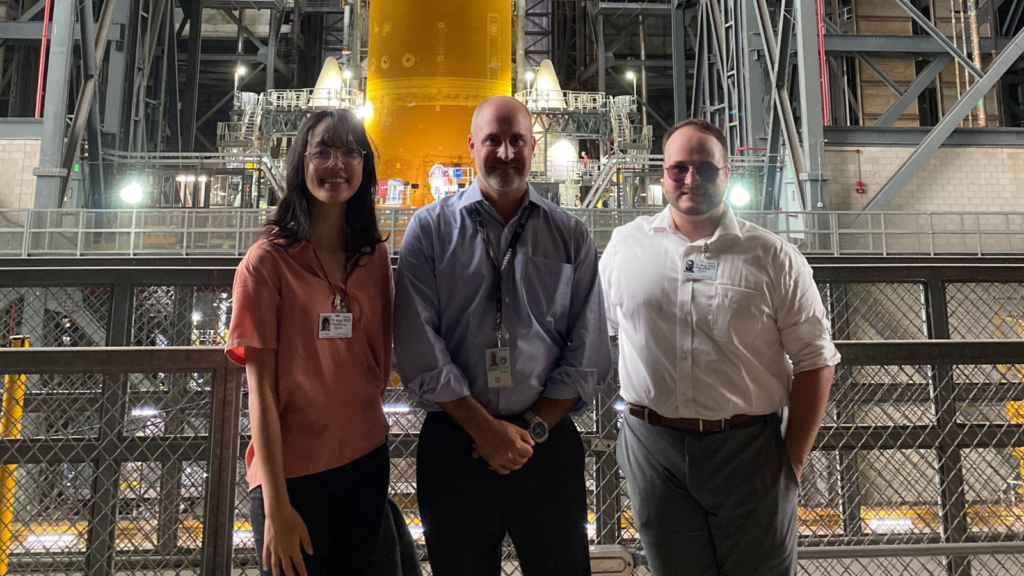 When space vehicles fire their onboard reaction control system thrusters, they create a plume of particles from unburnt or frozen fuel that are far-reaching. Those particles can disperse to the surface of space stations — including the International Space Station and Gateway, the planned lunar outpost that will be established through the Artemis program — and cause surface erosion and sediment disposition. If scientists can predict the distribution of plume particles, they can find ways to mitigate the damage they cause.
Janice Zou worked with the Kennedy Space Center's Deep Space Logistics branch to develop computer models that can predict the distribution of particles in space. She used computational fluid dynamics software to create the models, which she's become particularly skilled in through her work in the Computational Fluids and Aerodynamics Lab at UCF.
Although her major is mechanical engineering, Zou has a soft spot for all things aerospace. As a child growing up in Orlando, she was fascinated by the spacecraft and aircraft that flew overhead.
"Right in my backyard, whenever I looked up, there were either rockets launching from Cape Canaveral or various airplanes flying to airports," Zou says. "What child would not have been curious about all those sonic booms or the whirring of airplane engines that would appear above their heads every day?"
From KSC Visitor to KSC Researcher
When Emma Shafer was younger, the Kennedy Space Center was one of her favorite places to visit. This summer, her time spent at KSC came full circle when she transitioned from a tourist to a NASA researcher.
Shafer's research project focused on the lunar vehicles and regolith. She specifically examined the flow of lunar dirt in lunar gravity, and how a rover wheel performs while rolling in regolith. Her experiments can inform the design of moon-based vehicles in the future.
Shafer has had an interest in spaceflight since elementary school and decided to make a career of it in middle school, when she watched an IMAX documentary on the Hubble telescope at the Challenger Learning Center in Tallahassee. The fifth-year aerospace engineering major, who previously received the Astronaut Scholarship, plans to pursue a graduate degree before embarking on a career in the spaceflight industry. She says the experience she gained at NASA will only contribute to her upward trajectory.
"I now know much more about lunar dirt and engineering design," she says. "I also now know what it is like to work at the Kennedy Space Center and for NASA. The large amount of knowledge I gained through this experience will benefit my professional career by making me better prepared for future jobs and opportunities."
Supporting History in the Making
Central Florida native Katrina Gucwa used to love watching the space shuttle launches from her backyard. Seeing the spacecraft hurtle toward the cosmos sparked an interest in the space industry. In high school, she discovered the field of aerospace engineering — a field she plans to join in the near future.
The aerospace engineering major plans to earn her master's degree and return to NASA as a full-time researcher. She gained initial NASA research experience as an intern at the Kennedy Space Center. Like Latorre-Suarez, she also studied the abrasive and adhesive effects of lunar regolith and how it can damage space suits, metals and other materials. In addition to this, she worked on a second project that focused on cryovolcanic plumes.
"Cryovolcanic plume studies focus on the cloud of particles that an ice volcano ejects and how much drag those particles could cause on a spacecraft if it passed through that cloud," Gucwa says. "This will be beneficial to future deep space missions as we hope to send more spacecraft like Cassini or Voyager I to orbit planets and moons in the far solar system."
She says the opportunity to participate in M-STAR was unexpected and surreal, and she's grateful that she had the chance to participate.
"M-STAR generates a connection between students at UCF and NASA researchers and engineers," she says. "It permits students to work on projects directly impacting the Artemis program. I have dreamt of working at NASA since I was a child. It was the perfect chance for my research at UCF to be involved in the history of the space program."
The UCF M-STAR website provides more insight into the M-STAR internship program. It includes information about the students' projects, as well as their blogs about their summer intern experiences.
Students interested in applying for M-STAR should check the site regularly for dates and details about the next round of applications.