Aerospace engineering student Loubensky Baine is one of 30 students nationwide who have been selected to participate in the 2022 Matthew Isakowitz Fellowship Program. He is the first UCF student to receive this honor.
Matthew Isakowitz Fellows receive a summer internship with a top commercial space company as well as an executive mentorship with a professional in the aerospace community. They also attend a summit that allows them to network with industry leaders, to hone their entrepreneurial skills and to learn about startup companies in their field.
The program is selective — only juniors, seniors and graduate students who intend to pursue careers in the aerospace industry are invited to apply. More than 200 students from 90 colleges, including MIT, Virginia Tech and Cornell University, submitted applications this year.
"Being a Matthew Isakowitz Fellow is an amazing accomplishment," says Baine. "Being one of the 30 students selected nationwide — among a group of both undergraduates and graduates from some of the nation's most prestigious aerospace engineering programs — is almost unbelievable. I am thrilled to meet the rest of the fellows from my class, as well as the entire Matthew Isakowitz Fellowship team."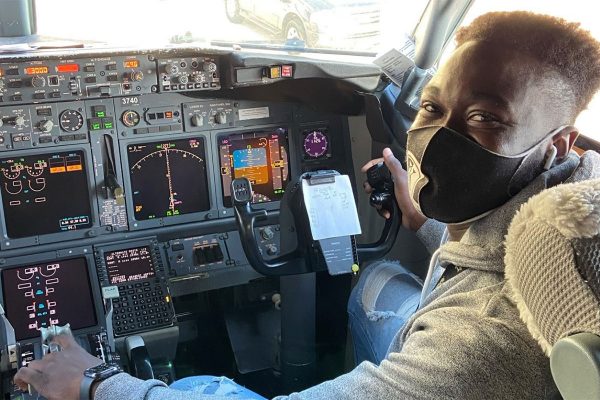 Baine is also thrilled to intern with Astra, a space launch company headquartered in California. Astra's mission is to "improve life on Earth from space," and Baine says he looks forward to contributing to that goal.
While he completes his internship, he'll receive advice and guidance from his executive mentor, Edward L. Bolton Jr., a retired United States Air Force Maj. Gen. and the current senior vice president of the Defense Systems Group.
While this experience is new to Baine, he's no stranger to fellowships. In 2021, he was one of two UCF students who received the inaugural Patti Grace Smith Fellowship for Black aerospace undergraduates. He's blazing a trail for future UCF aerospace fellows, and says he's proud of it.
"As a Knight, it is my honor to be the first Matthew Isakowitz Fellow selected from UCF," Baine says. "As one of UCF's first Patti Grace Smith Fellows, and now the first Matthew Isakowitz Fellow, I humbly aspire to continue to represent such an amazing university."
Baine expects to graduate in 2023, and after that, he plans to work for a leading company in the industry. His fellowship experience can help him get there, but he credits UCF with setting him up for success.
"My time at UCF so far has been amazing," Baine says. "I have learned so much and connected with several peers and professors, all willing to help support me on my journey to success. I am happy with the decision I made when I chose to be a Knight."