If you want to gain an international perspective on your career field, you can immerse yourself in a study abroad program. But if you want to broaden your perspective and work on research with leading industry scientists, you can participate in an international research experience instead.
The International Research Experience for Students, sponsored by the National Science Foundation, sends young researchers to another country to work on research projects related to their field of study. Professor Seetha Raghavan leads an IRES program on advanced combustion and materials technologies that's hosted at the German Aerospace Center in Cologne, Stuttgart and Göttingen.
This past summer, three mechanical and aerospace engineering students – Rosa Olivera, Brendon Cavainolo and Benjamin Latrobe – participated in the program. They each worked on their own research projects and collaborated with DLR scientists on their work.
"At a personal level, I developed immense personal growth since I constantly felt challenged within the laboratory and out."   -Rosa Olivera
Conducting International Research
Cavainolo worked at the Institute of Materials Research and used computational fluid dynamics to find out how particles like sand and volcanic ash can penetrate the thermal barrier coatings on aircraft engines. Latrobe used a particle tracking technique to analyze flow over a backward-facing step, while Olivera conducted experiments on hydrogen and ammonia for use as an alternative aviation fuel with the Institute of Combustion Technology.
"Like at UCF, experiments at the DLR are also performed using a shock tube apparatus to identify the ignition delay time and chemical kinetics of the ignition at particular temperature and pressure conditions," Olivera said. "Being able to conduct this research alongside a very skilled scientist and physicist was engaging and full of opportunities to learn."
Olivera said that she became interested in the IRES program during her junior year, when she developed a curiosity about the topic of propulsion. She said the program helped her develop a better understanding of the subject as well as how to conduct research.
"At a personal level, I developed immense personal growth since I constantly felt challenged within the laboratory and out," Olivera said. "Living in a foreign country for two months did force me to go out of my comfort zone and explore my surroundings. Although frightening in the beginning, I did develop courage, alertness and independence by doing so. This is the biggest growth that I will take away with me."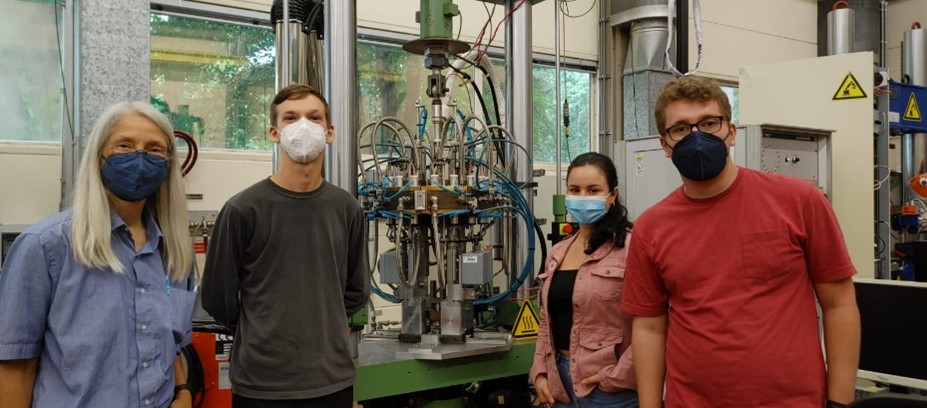 Gaining a Cultural Perspective
Latrobe said that he also gained a better perspective on research and was enticed by the chance to live and work in a country known for engineering excellence. He said his favorite part of the trip was working with the scientists at the DLR, but he also enjoyed learning more about the German culture.
What makes the IRES program unique is that it combines the best aspects of both a fellowship and a study abroad experience. Students can explore their host country while learning about their field of study. For Cavainolo, the best part of the trip was visiting the Siemens Gas Turbine Factory in Berlin. For Olivera, it was meeting individuals of different backgrounds and cultures.
But before students jump into this immersive experience, the 2022 cohort advises that they plan ahead.
"It is crucial for the incoming IRES students to take advantage of the spring semester, which involves preparing for the arrival to the summer research," Olivera said. "Although two months sounds like sufficient time, it is fast paced. As soon as you are landing at the German Aerospace Center, the days begin to go by quickly."
To learn more about the IRES program led by Professor Seetha Raghavan, visit her website. And stay tuned for our announcement about a new IRES program for engineering and science students.