When physicians at the Orlando Health Arnold Palmer Hospital for Children dream up new medical devices or reimagine surgical treatments, they know that Ray Prather '13, '15MS, 18PhD, can help them bring their ideas to fruition.  
The three-time UCF graduate is a senior research associate at the hospital, where he's worked for the past three years. In this role, he collaborates with surgeons, cardiologists and imaging specialists to develop better treatments for patients.
"It is unbelievable the amount of ideas floating around in this environment, ideas with potential that often are left unexplored," Prather said. "My expertise in modeling techniques offers these creative thoughts or solutions a concrete outlet."
Solving Pediatric Medical Problems
One such solution is a device that can monitor a patient's cardiac output in real time, in addition to other vital signs. Cardiac output isn't measured on current bedside monitors, but Prather says that this additional feature could help physicians diagnose near-term adverse events. The development of the device is already underway, and Prather is also in the process of patenting it.
For the past few years, Prather has been developing another medical device that could help children who are born with only one ventricle. These children undergo a series of open-heart surgeries, including the Fontan procedure, which reroutes the circulatory system. However, most patients don't live to adulthood due to the health issues that can be caused by the procedure.
To alleviate these health issues — and to help patients live longer lives — Prather is working with a team of researchers to develop an injection jet shunt that is powered by the heart's own energy. MAE Professor Alain Kassab and MAE alumnus Eduardo Divo '98 are collaborating with him on the project.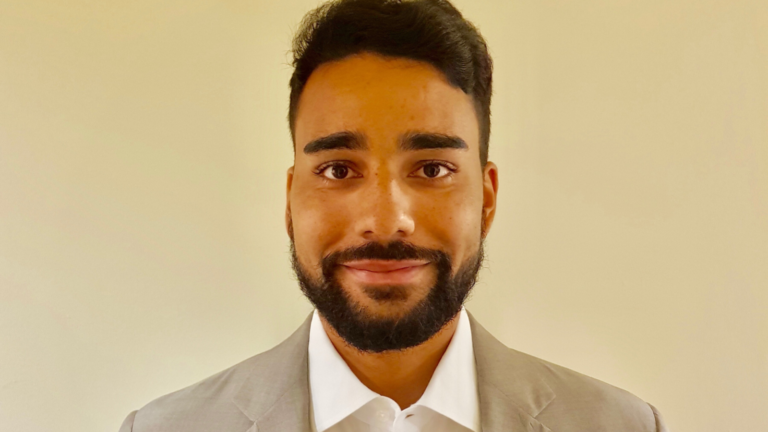 Prather says he was drawn to the field of biomedical engineering through his fascination with nature, which he believes holds solutions for every engineering problem.
"I have a deep respect for nature, and draw inspiration from it," Prather said. "Many branches of engineering try to overcome nature, to impose on it. I feel that biomedical engineering cannot afford to approach a solution in that fashion — biomedical engineers often must find a symbiotic solution to an issue they are facing."
Prather says his love of learning also drew him to the field of biomedical engineering, but prior to that, it led him straight to UCF. He earned his bachelor's, master's and doctoral degrees from the university, all in mechanical engineering. He says that the abundance of opportunities that UCF has to offer, as well as its proximity to prominent engineering companies, made it irresistible to return for all three degrees.
"Personally, at UCF I found very fertile grounds to nurture my curiosity and acquire indispensable skills," he said. "As an undergraduate and graduate student, I worked in multiple research labs, interned at Mitsubishi Power Systems, and collaborated on many multi-institutional projects."
He encourages current and future biomedical engineering students to grow both personally and professionally during their college years and to never be afraid of failure.
"UCF offers a plethora of opportunities to those willing to make the effort, hence I encourage every student to consider their journey at this institution as a stepping stone to a bright future," Prather said. "Be courageous in your creative expression and persevere in the face of failure. Do not fear failure, make it a learning experience. This holds true in all aspects of life and in the engineering field."