Ten UCF Knights, including three from the Department of Mechanical and Aerospace Engineering, are the recipients of the National Science Foundation Graduate Research Fellowship Program, where they receive financial support for their education and an annual stipend to support their research and career endeavors. It is one of the most prestigious awards for graduate students, with just about 16% of applicants awarded each year.
The NSF Graduate Research Fellowship Program recognizes and supports students who are pursuing full-time, research-based graduate degrees in science, technology, engineering or math, and who have demonstrated potential to be high-achieving scientists and engineers. Recipients are selected through a rigorous application process.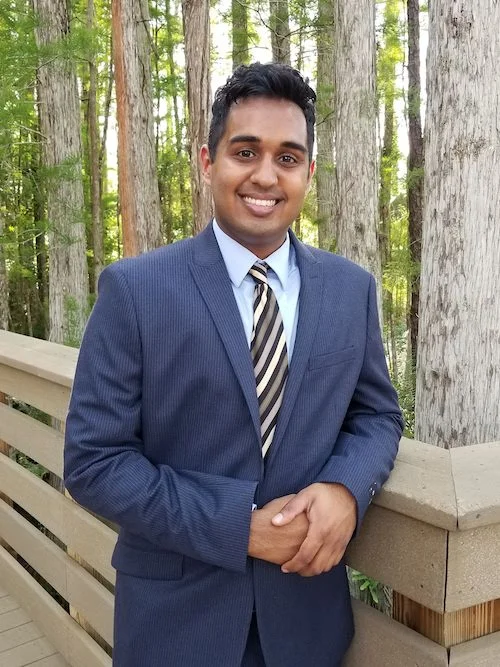 Undergraduate degree and institution: Bachelor's in mechanical engineering and biomedical sciences; UCF
Graduate degree and institution: Master's in mechanical engineering with a concentration in robotics; Carnegie Mellon University
Research focus and why: My Ph.D. will focus on developing a teleoperated catheter surgical platform with haptic feedback in collaboration with the University of Pittsburgh Medical Center (UPMC). Unlike other types of robotic platforms, this will be mainly used for endovascular surgeries, which are minimally invasive procedures for treating a wide range of cardiovascular conditions including aneurysms and arterial blockages. Surgeons access these sites using nested catheters (thin tubes) inserted through arteries in the leg, which are then manipulated to enable tools to reach areas of interest via the patient's circulatory system. By creating a teleoperated platform to complete these procedures, we can promote wider access to equitable healthcare, as experienced doctors can remotely operate in underserved communities at reduced time and financial costs to patients. By eliminating travel time as a factor in these treatments, it also will enable rapid intervention in emergency procedures and remote areas.
Career aspirations: I plan to work in research and development in robotics, with a continued focus on accessibility and healthcare. My goal is to contribute to the development of innovative robotics technologies that can be used in medical fields such as surgery and rehabilitation. I am passionate about leveraging robotics to enhance accessibility and am eager to see the impact it can have on the greater community.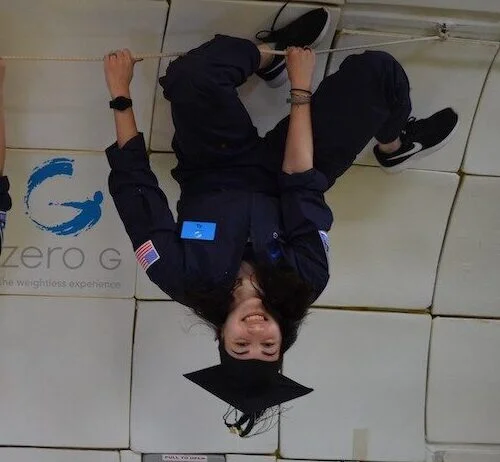 Undergraduate degree and institution: Bachelor's in physics; Carthage College
Graduate degree and institution: Ph.D. in aerospace engineering; UCF
Research focus and why: As the aerospace industry is focusing more and more on the Artemis missions going to the moon and eventually Mars, there are many areas of research that are lacking critical data and understanding. One area involves propellant storage and transfer systems of super-cooled cryogenic fuels that behave differently in 1g versus microgravity. My research will focus on studying and tracking cryogenic fluid flows in these different gravity conditions and develop a technology to gauge the locations of boiling propellant in transfer processes.
Career aspirations: I hope to continue research after grad school that will help our Artemis generation safely get to the moon and eventually Mars. More specifically, I wish to continue my research with fluid behaviors in microgravity.
Undergraduate degree and institution: Bachelor's in mechanical engineering; UCF
Graduate degree and institution: TBD
Research focus and why: I am interested in providing high-fidelity insight into rocket-nozzle plumes in space through the development of a computational fluid dynamics (CFD) model. When reaction control system (RCS) thrusters fire in space to help space vehicles adjust for scenarios like docking onto the ISS (International Space Station), the plumes they create expand a lot in the vacuum environment. Since it is also cold in space, any of the fuel from the thrusters that are not burnt upon exiting the nozzle are frozen. These frozen fuel particles can end up impinging on nearby surfaces and eroding them — reducing the lifetime of the surface. By developing a model that can simulate such scenarios, we can better understand the behaviors of plumes and the fuel particles in space to better design space vehicles now and in the future.
Career aspirations: From early on, I knew I wanted to work in a research environment where we're pushing the boundaries of our current understanding of the world. I have a passion for the space industry and aim to help pave the way for the development of more efficient space vehicles for future deep space missions.
Students interested in applying for NSF Graduate Research Fellowships or other major national awards should contact the Office of Prestigious Awards at opa@ucf.edu.