An army of Knights is among the researchers charging their way into final frontier with innovative projects shaping the future of space travel.
Perhaps it's unsurprising due to the University of Central Florida's history tied to the American space program. As the need for more aerospace engineers rose, the "space university" opened its doors to education in 1968 — the same year the Apollo 8 mission took humans into the moon's orbit.
Since then, students and professors have taken full advantage of being only 35 miles from Kennedy Space Center collaborating with NASA, developing new technologies and techniques straight out of science fiction. In the last 18 months, UCF has had 71 space-related research projects approved and awarded with grants exceeding $10 million, according to UCF spokeswoman Zenaida Kotala.
Some of the research projects include:
3-D printed sensors for astronauts to monitor ship's integrity
A device that would create a landing pad for a rocket as it lands
Developing cost-effective and logistically feasible way to mine lunar ice
The projects' vary widely but nearly half of them, 31, are moon-research related.
Most recently, UCF's Kawai Kwok was one of eight UCF recipients to receive the NSF Career award for his research proposal of examining flexible yet strong material capable of performing as a satellite solar sail, and then being able to roll up from the satellite's base as easily as measuring tape.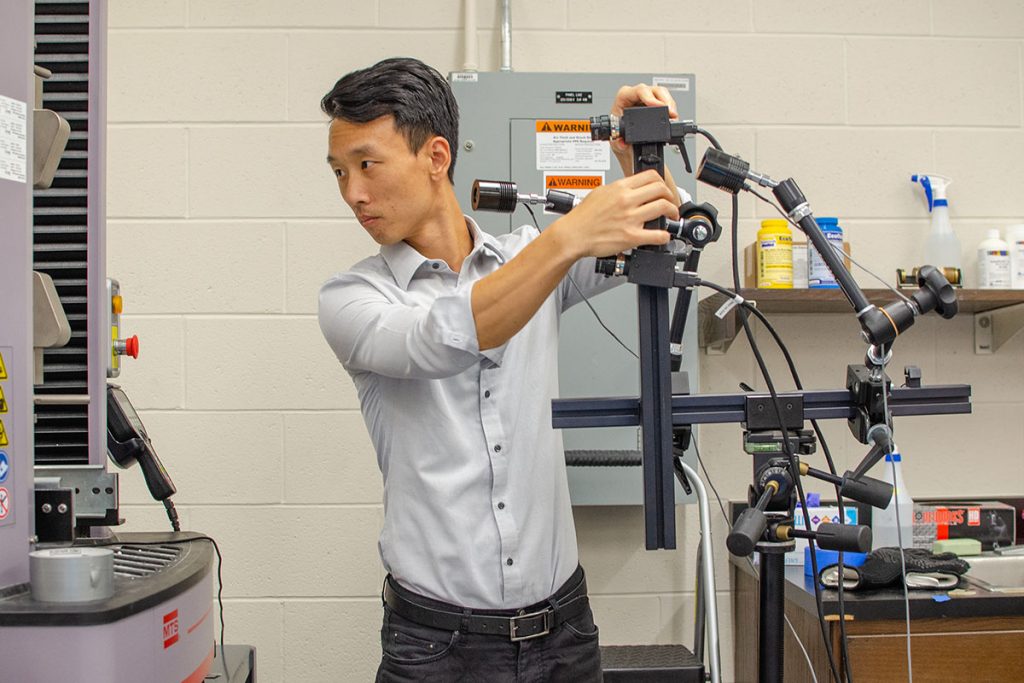 Shape Changing Structures
It's called "snapping instability structures" Kwok said and his idea all started with a stroll through his garden.
Kwok was admiring a ladybug as it flew by. The gentle insect landed on a flower, compacted its wings and nimbly navigated its surroundings. Other than achieving flight, insect wings will conform to the body as the organism sees fit. If it needs to soar, the wings expand. If it needs to crawl under a window, the wings will contract and allow the bug to take on a slimmer form.
"That's exactly the kind of behavior we have been looking for many years in the engineering community. How do we have a structure that can drastically change the shapes?" said Kwok, a 38-year-old assistant professor of mechanical and aerospace engineering.
For the last six years, Kwok has been researching composite lightweight structures for aerospace applications.
His most recent idea of exploring "snap instability" is what earned him a $500,486 NSF CAREER grant, which will allow Kwok and some of his select students to explore different applications of carbon fiber composites — or other lightweight material — that might be able to mimic the behavior of insect wings.
Although, creating material that is both thin and a very strong isn't easy.
Currently, Kwok and his students are working on a .5-meter-long propeller made of a carbon fiber composite. So far, the light and bendable propeller can maintain integrity spinning at 3,000 RPM. Next Kwok wants to move up to a 1-meter-long propeller — the results of which could benefit drone technology. The U.S. Navy has already expressed interest in Kwok's work.
"I guess (the) dream would be (to) design propellers or wings that unfold from a drone. The Navy (would like) to be able to launch a swarm of drones in compact in small tubes," Kwok said.
For the time being, the research is in its early stages and may not end up using carbon fiber, which is cooked up in a small lab at the UCF Engineering Building
"We're not just looking at carbon fiber composites. We're trying to see if we can mix a larger variety of materials with different functions and properties," he said.
Ideally, Kwok's snap instability structures would take on similar characteristics to that of measuring tape, being able to expand greatly while also maintaining structural integrity for technologies such as solar sails for solar-powered space travel. It's an idea that's hasn't truly moved beyond that of science fiction. One of the reason solar sails are hard to create is because they need to be large enough to capture an area of about 20 to 40 meters, to capture photons from the sun, but also maintain an extremely light weight.
"How to fold them into in a way that can can be structurally sound in space? Hopefully, we'll find that answer," Kwok said.