Abhishek Sastri was stuck in traffic in the heart of Atlanta when he got a call from his co-founder,  Eduardo Castillo. The UCF alumnus and co-founder of startup company Fluix needed to fulfill his company's largest order. The timing was terrible – Sastri was on his way to Knoxville, Tennessee, for the kickoff of the Techstars Industries of the Future accelerator, a prestigious program that supports promising startups with a focus on emerging technologies.
Caught between a rock and a hard place, Sastri called the Techstars program manager, Tricia Martinez, who wasn't going to let him fail. She helped him move 1,000 pounds of inventory into an office space, and connected him with the University of Tennessee so he could hire a student who could help him fulfill the order. Sastri's business had already benefited from the program before it even began.
His company, Fluix, which manufactures high performance liquid coolers for servers and workstations, was one of 10 startups selected to participate in the inaugural Techstars Industries of the Future accelerator. The program is designed to fuel the growth of up-and-coming tech companies, and provides mentorship and networking opportunities – along with a $120,000 investment – to boost their business. Techstars partners with the Oak Ridge National Laboratory, the Tennessee Valley Authority and the University of Tennessee system to manage the program.
"We are excited to welcome these 10 companies to the Oak Ridge Corridor," said Thomas Zacharia, the director of Oak Ridge National Laboratory, in a release. "We are committed to translating scientific breakthroughs into new technologies that improve lives all over the world, and Techstars' inaugural class is full of innovators ready to make an impact."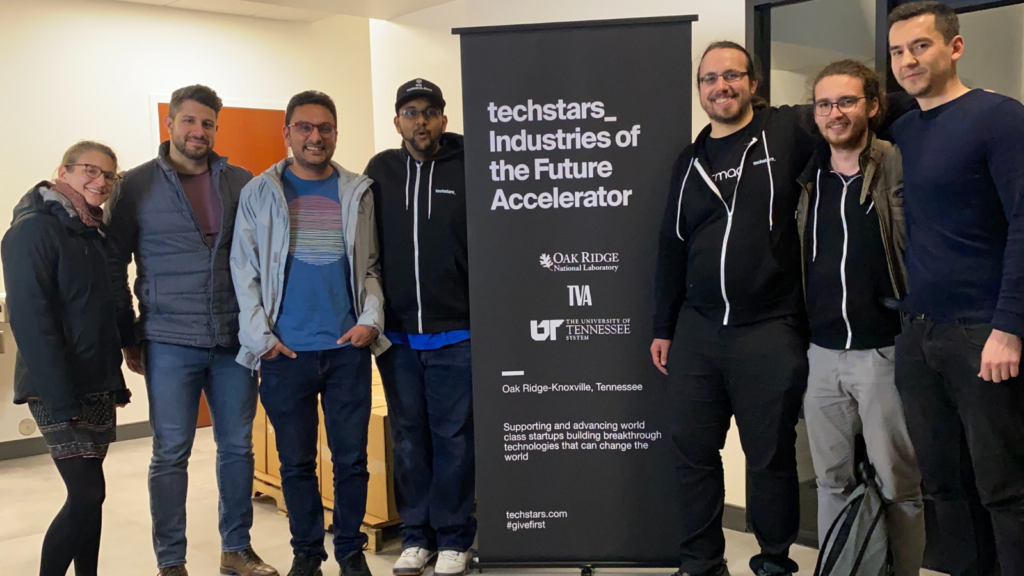 Techstars has already made an impact on Fluix. The co-founders have met with a number of industry professionals who have mentored them on the art of the pitch as well as how to communicate about their business. They've also met with local business owners and new clients, and Sastri even judged a student pitching competition similar to Shark Tank at the University of Tennessee.
The biggest boost, though, comes from the partnership with Oak Ridge National Lab. Sastri and Castillo are working with ORNL as well as data centers in the Knoxville area to test their latest product – a liquid cooling system that can speed up the processing of servers and reduce the energy output of data centers.
The U.S. Department of Energy estimates that data centers consume 10 to 50 times the energy per floor of a typical commercial office building. Collectively, these centers account for 2% of the nation's electricity use. The goal, Sastri said, is to get their energy usage to net zero. Fluix aims to do that through their novel liquid cooling system, which they will build and test with high performance data centers. on ONRL supercomputers. If all goes according to plan, the product could make an impact on the tech industry, and help them break into a new market.
"That stamp of approval from testing in a high performance data center such as Oak Ridge  could help us get more clients," Sastri said. "That's a huge step of credibility for us."
The company has already built a solid foundation of credibility in the local community. It's already outgrown its previous warehouse and it has surpassed the financial benchmarks that Sastri and Castillo set out to meet. They now plan to raise more than $1 million from investors to take their product to the next level. And they may be able to meet that goal through the accelerator.
Each company will have the opportunity to meet with hundreds of potential investors during Demo Day, which serves a graduation of sorts for the inaugural class of participants. They'll pitch their business in the hopes of securing both funding and support from top industry experts. Demo Day takes place in May, toward the end of the Techstars accelerator.
The journey to Techstars started in 2017, when Sastri and Castillo were students at UCF. Sastri credits professors Cameron Ford and Mike Pape with connecting him to the Blackstone LaunchPad, which supports student entrepreneurs, as well as to funding opportunities. Before long, Fluix had landed the Blackstone LaunchPad Summer Startup Fellowship, which provided them with eight weeks of virtual mentoring and coaching as well as a $5,000 grant.
Following the fellowship, Satri flew to New York for the Techstars Propel Weekend, where he networked with more than 100 mentors and fellow tech entrepreneurs. Their exposure to Techstars led them to apply to four different accelerators. But they were never accepted until now.
"They loved Fluix, but they felt we didn't have enough partnerships at the time," Sastri said. "Tricia, the managing director, believed in us from the beginning."
With her support, Fluix applied for the Industries of the Future accelerator and the rest is now history in the making.
As Fluix grows, the UCF Knights hope to expand their workforce with graduates from their alma mater. Sastri said that students who have dreams of entrepreneurship can find plenty of support on campus, whether its through the College of Business' Joust New Venture Competition, the College of Engineering and Computer Science's Technology Venture Symposium, or the Blackstone LaunchPad.
"Venture over to the College of Business and visit the Blackstone LaunchPad in the Student Union, right under the stairs," he said. "You can meet with other entrepreneurs and they will mentor students on how to build a company. You just have to walk in and start engaging with them."
Sastri and Castillo used the Blackstone LaunchPad for support as well as the I-Corps program and the UCF Business Incubation Program. They also competed in the UCF Technology Ventures Symposium in 2021 and won the first-place prize of $10,000. Through their efforts, they've connected with other UCF entrepreneurs and formed a tight-knit community. Sastri encourages current Knights to become part of this community by taking a chance on their own bright ideas.
"Don't think you can't because you're too young or don't have experience," he said. "Do it now when you don't have a family to feed or bills to pay. Your college years are the best time to be a little risky."
If you want to learn more about entrepreneurship or the Techstars accelerator, connect with Sastri at abhi@fluixpro.com. To learn more about Fluix, visit its website.