Under the ocean lies a mysterious world of sea creatures, coral reefs, aquatic plants…and underwater robots. Those robots aren't toy fish or mechanical sharks used in films, but rather unmanned underwater vehicles (UUVs) used by research organizations and the military.
UCF alumnus Cody Nichoson '21 is the newest member of the team that develops UUVs at The University of Texas at Austin. He uses his knowledge of mechanical engineering and his passion for robotic systems to design and program the behavior of underwater vehicles created at the Advanced Technology Laboratory, one of four labs that compose the Applied Research Laboratories at UT Austin.
"Though much of my work is software-based, there is a significant fieldwork component necessary to both test the autonomous behaviors and ultimately assist in the deployment of our systems wherever our customers may need them," Nichoson said. "So in between working on software development in the office, I also find myself out at Lake Travis in Austin or around the U.S. deploying our underwater vehicles and testing new behaviors."
Although Nichoson's professional world now revolves around robotics, he didn't plan to work in that area. After transferring to UCF during his sophomore year, he settled into the mechanical engineering major to gain a broad set of skills that could serve him in various industries. But once he discovered the minor in intelligent robotic systems, he realized there was only one field that he wanted to work in.
"As it turns out, the few classes I took to earn that minor sparked an entirely new interest within me andopened my eyes to a whole new potential career path," Nichoson said. "I eventually pivoted my entire career trajectory to blend my mechanical engineering background with a software-oriented future and went on to earn a master's degree in robotics at Northwestern."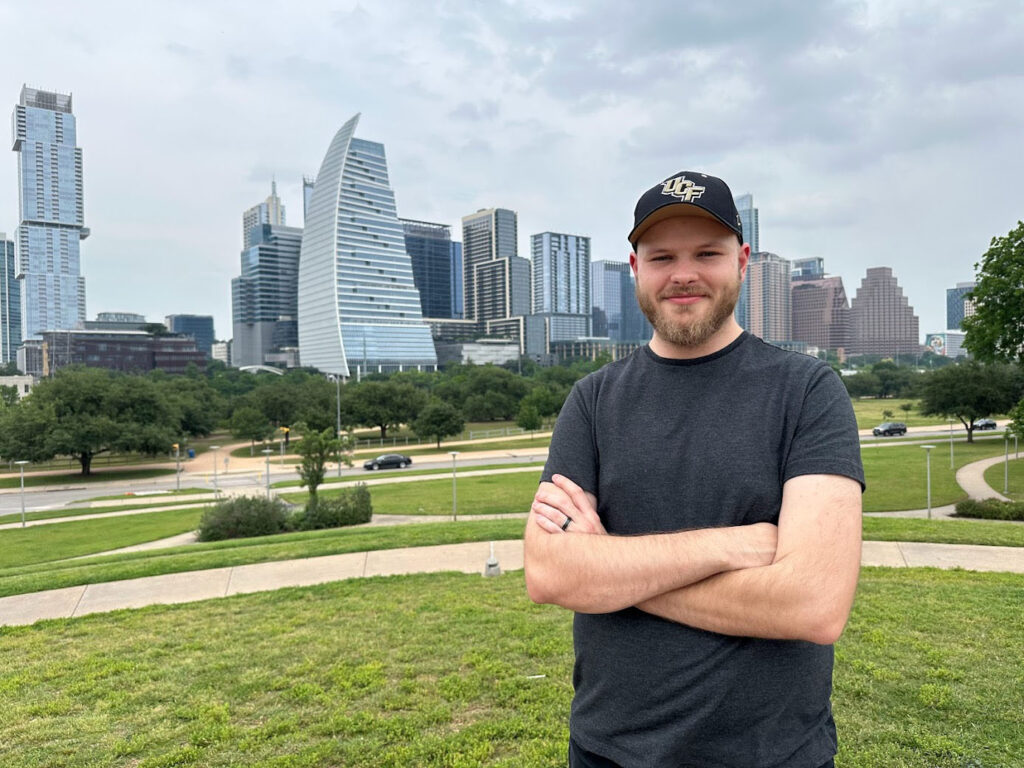 The robotics classes taught by computer science associate professor Gita Sukthankar might have set Nichoson on the road to robotics, but his internship experiences gave him the skills to succeed in his career.
After his freshman year of college, Nichoson landed an internship with the Harbor Branch Oceanographic Institute, where he gained software experience. He developed an algorithm that used live ocean current data to predict the descent trajectory of benthic landers – underwater platforms that contain sensors. The goal was to improve the launch accuracy of the landers so they could be placed more accurately on the ocean floor.
Two years later, Nichoson completed an internship with the Advanced Technology Interactives team at Universal Creative. He built prototypes and developed innovative concepts for new interactive experiences at the theme park.
"This internship was by far one of the most exciting and enjoyable work experiences I've ever had," Nichoson said. "It felt like the perfect blend of technological innovation and creative fulfillment that too few engineers have the opportunity to enjoy. Looking back, this internship also gave me some of my earliest hands-on experience with robotics systems, something that obviously turned out to be pretty important for me."
Advice for Future Engineers
Nichoson also completed internships with the Triumph Group, a manufacturer of aerospace and defense structures, as well as the Air Force Research Laboratory before landing his current position. He says UCF set him up for success and credits the university for giving him the room to explore his interests.
"Though I ended up in a career path that isn't exactly mechanical in nature, I believe the knowledge and skills I gained during my time at UCF played a massive role in helping me get to where I am today," Nichoson says. "I think it speaks volumes of an institution that can not only provide its students with the industry-relevant skills you expect from a degree program, but also provide a foundation strong enough to support growth and change across an entire career."
It wasn't too long ago that Nichoson was in a UCF classroom, so he offers sound words of advice for current students. He advises future engineers to not compare themselves to others, to just focus on their own self-improvement. He also encourages them to take risks and try new things.
"If you asked me during my senior year where I saw myself in two years, I never would have pictured a master's degree and a job as a software engineer," Nichoson says. "Life can feel like a crazy maze sometimes, and a career is no different. Just take things one step at a time, and don't be afraid to ask weird questions or try new directions if they appeal to you."