UCF will be a player in developing innovative technologies needed to support NASA's Artemis program, which will return people to the moon and create a robust presence there over the next decade.
The university has been awarded a $500,000 grant to create transformative space technologies by bringing together interdisciplinary teams of faculty and students to work on projects with industry and NASA centers. UCF was one of seven universities who received the award through NASA's Minority University Research and Education Project (MUREP) Space Technology Artemis Research, or M-STAR, initiative. UCF is a Hispanic Serving Institution, which made it eligible for the award.
Faculty who are experts in engineering, physics, and medicine will work together to create a suite of scientific and educational efforts to support the technology capabilities in the areas of robotics, materials for extreme environments, and entry, descent, and landing technologies.
The project will support opportunities for students to work alongside these experts and to help train them to be critical thinkers while innovating technology and protocols needed to advance space exploration. As NASA aims to seek different perspectives and build a more diverse and competitive workforce for the agency and the nation, this award will enable UCF to recruit and retain underrepresented and underserved students.
"This is big," says Professor of Engineering Seetha Raghavan, who is the principal investigator on the UCF initiative. "We are already one of the nation's most innovative universities and we get to collaborate amongst three different colleges to direct our ingenuity towards space technologies. This grant will further help us strengthen our programs, which will directly benefit students and our space industry. The better prepared they are to creatively think and problem solve, the better job prospects our graduates will have."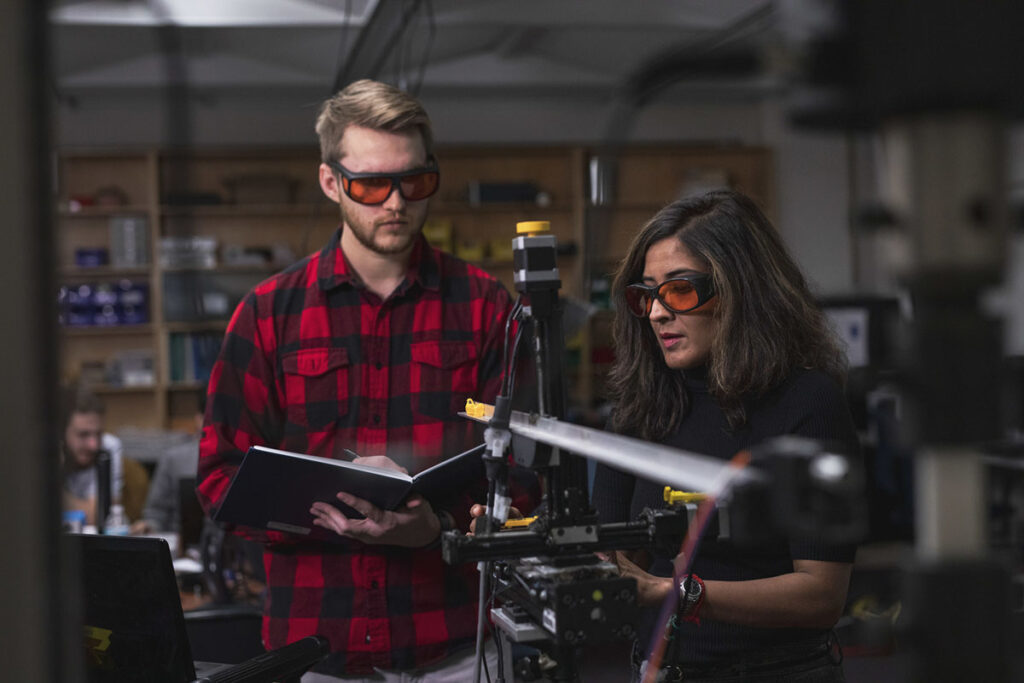 Supporting the Artemis Program
UCF already ranks as the No. 1 university for producing graduates for aerospace jobs and about 30% of Kennedy Space Center employees have a UCF degree. Many of UCF's engineering and physics graduates have gone on to work for NASA, Space X, Boeing and JPL among others. And many faculty members are part of ongoing NASA and commercial space missions.
The UCF team plans to strengthen scientific areas that are key to NASA's mission by forging connections that expand expertise in space technology research where gaps exist, leveraging access to critical facilities needed for success and expanding industry partnerships.
"We will enhance educational activities and diversity initiatives by expanding courses and curriculum centered around space technology; equipping faculty and students with the skills for responding to opportunities in space technology research; and creating outreach activities that foster an ecosystem of space STEM students at all levels," Raghavan says. "This team is set to amplify current individual strengths in the various colleges and align UCF's strategic plans and STEM goals toward successful outcomes for NASA's Artemis missions."
Raghavan's team of co-investigators include Associate Professor of Physics Adrienne Dove, Assistant Professor of Mechanical and Aerospace Engineering Michael Kinzel, and College of Medicine Professor Melanie Coathup.
The team came together after Raghavan conducted a two-part virtual workshop "Catalyzing New Space Technologies" featuring joint and multi-disciplinary efforts between various space-research entities within UCF and external partners. As part of this grant, the group will work with Blue Origin, imec and local industry, various NASA centers, and the Florida Space Grant Consortium. All the professors involved have a strong commitment to mentoring undergraduate and graduate students.