Most undergraduate students don't spend their summers conducting research, but for the students who participate in the HYPER Research Experience for Undergraduates, summers are less about vacations and more about academics.
HYPER is the short name for the Advanced Technologies for Hypersonic, Propulsive, Energetic and Reusable Platforms program, which is an REU that's co-funded by the National Science Foundation and the Department of Defense. Students who are selected for the program participate in a unique research experience that allows them to complete a project related to space travel and energy production under the guidance of a student mentor and a faculty member.
Students also participate in professional development workshops, and they visit NASA's Kennedy Space Center as well as aircraft manufacturers in the area to gain a better understanding of the aerospace industry.
The majority of the students in the program are from out of state, but a few lucky UCF Knights, including Kian Garcia and Carolina Caramaschi Ratto, have had the chance to conduct research through HYPER.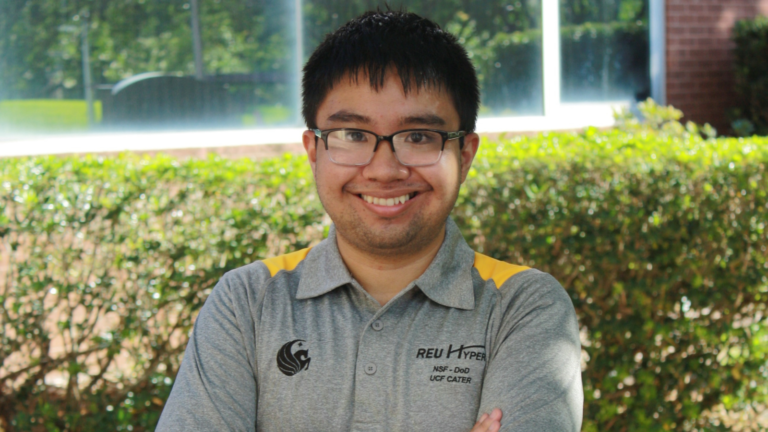 Garcia is a mechanical engineering major who already had an impressive resume before being selected for HYPER. He is a member of the Burnett Honors College, and a graduate of the LEAD Scholars program. He participated in the 2021 HYPER cohort, where he was paired with Associate Professor Kareem Ahmed and mentored by doctoral aerospace engineering student Robert Burke, who also serves as a graduate assistant for the HYPER program.
For his research project, Garcia extracted frequencies of detonation waves from rotating detonation engines with the aid of MATLAB software. He said he learned a lot from the project, including the fact that engineers don't always have all of the answers.
"I also learned that there were days that I would not understand what I was doing completely," he said. "[For example], it took me three days to learn which function extracted frequencies and several more days to improve on the initial code."
Garcia said he also enjoyed the environment, which is different from the typical undergraduate class, and the fact that he had the chance to meet new people who came from different backgrounds but shared similar interests.
Catalina Caramaschi Ratto
For Ratto, the chance to conduct research through the HYPER program was an experience that she didn't want to miss. The South Florida native chose to attend UCF because of the research opportunities that it offers to undergraduates.
"After researching UCF's engineering program and learning how many opportunities would be available to me as a student led me to choose to earn my degree here," Ratto said. "I knew research was very prominent at UCF and it was something I wanted to have the chance to participate in at some point while earning my degree."
Like Garcia, Ratto was selected for the 2021 HYPER cohort. She worked under the mentorship of Assistant Professor Dazhong Wu and his graduate student Ziyang Zhang. The goal of her research project was to synthesize a novel resin with tunable mechanical properties for 3D printing.  
Although Ratto came for the research opportunity, she left with a great social experience as well. She said she enjoyed the chance to get to know other students and to participate in some of the social events they hosted including game nights and barbecues. Overall, Ratto believes that what she learned in the HYPER program will help her succeed on the path toward her career.
"Participating in the REU allowed me to convey my knowledge in a more structured and efficient manner with the guidance and support of everyone involved in the program," Ratto said. "That skill is priceless, and I'll be able to put that practice to use later on."