Robots soar through the sky at 80 mph, zipping around obstacles and racing towards the finish line.
This is drone racing, where pilots wear virtual reality goggles that livestream video footage to their stationary cockpits as they compete against a handful of other drones.
The sport is taking off, and UCF aerospace engineering majors Mason Mincey and Derek Saltzman are evolving the local drone-racing scene into a larger community by bridging the gap between sports and technology.
Juniors Mincey and Saltzman are the co-founders and chief operating officers of SOAR Aerospace, a startup company they created in September 2017 that researches and develops an affordable method for producing and manufacturing premium quality carbon fiber.
Like a tightly woven basket, SOAR's carbon fiber material has thin intertwined layers of black and lime colored fabrics. It took Mincey and Saltzman's team eight months to finalize the working method for the material.
"We want to become a great presence in the drone society, building a brand that represents quality, customization and introduces an innovative selection," Mincey said.
The duo met as roommates at the beginning of their freshman year at UCF. The two discovered they shared a common interest in rockets, airplanes and aerospace engineering. Following their passion, Mincey and Saltzman participated in the NASA Student Launch Initiative, a research-based and experiential project typically done by senior aerospace students.
This project started their journey toward creating a business together. The pair recruited a team of friends and peers to assist them on their mission. Although their written proposal wasn't approved to move on with the design process, they managed to discover how well they worked together as a team under pressure.
In April 2018, SOAR received a $7,000 startup grant for landing second place in UCF's Joust New Venture Competition. Mincey and Saltzman said this accomplishment allowed them to purchase a computer numerical control machine, which they used to cut out patterns for drone frames, The machine allowed them to create their first fully-colored drone known as "The Hornet."
SOAR's products are stronger and more colorful than most other drone frames made overseas, Mincey said. The co-founders said the marketplace for drones demanded superior durability and variety in design and color. By May 2018, the company was selling and distributing its products.
"The goal going into college was to do projects, get a couple internships and get a good job," Mincey said.
"We want to become a great presence in the drone society, building a brand that represents quality, customization and introduces an innovative selection."   -Mason Mincey
While Mincey said these were his goals, he and his partner have managed to become their own bosses before even graduating. At ages 20 and 21, Mincey and Saltzman are already running their own business. The pair credits the mentors at UCF's Blackstone LaunchPad with helping them to kick-start their development as a company.
Run by the Center for Entrepreneurial Leadership, Blackstone offers the opportunity for students to learn how to pursue entrepreneurship. Located on the first floor of the Student Union, it provides free one-on-one coaching to all UCF students who want to develop an idea or startup company.
Lauren Phillips, student ambassador and event planner for Blackstone, said she's familiar with SOAR's efforts in the UCF community. Phillips said she is inspired by Mincey and Saltzman because they found a way to make money by doing something they are passionate about.
"At the end of the day, it's who you know, not what you know, and this is a great place to make those connections and meet other people who are in the same position as you," Phillips said.
In the last year, SOAR Aerospace has collaborated with Red Bull and YouTube influencers such as Orlando Speed World and wake boarder, Blake Olson. The duo said their drones are the future for filming epic action shots for all water sports.
SOAR's X-class drone design, known as project "Don't Break," is designed to withstand high-speed crashes.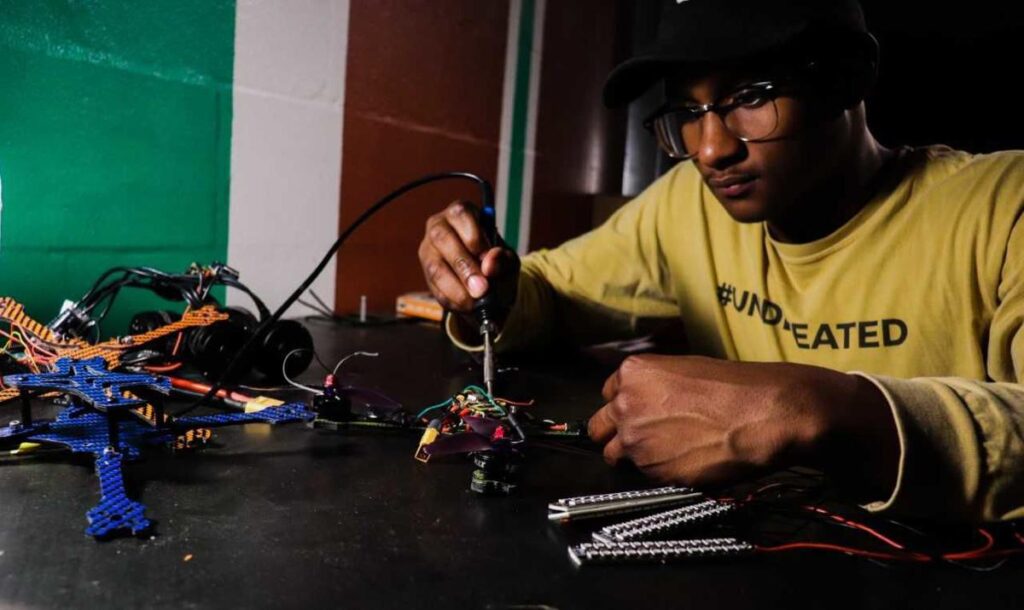 The Future of Drone Racing
SOAR is currently in the process of building a large drone called "Don't Break" for X-class drone racing. Mincey and Saltzman said that SOAR's mission is to grow drone racing sports events.
"Hopefully we can take drone racing into the mainstream of sports, where people are excited to watch and participate," Saltzman said.
Now, the pair is soaring toward the big screen as they design a new drone that will be featured in the upcoming "G.I. Joe" movie starring Dwayne "The Rock" Johnson, coming to theaters in 2020. Unable to disclose specific details, Saltzman said audiences can expect SOAR's drones to make some sort of cameo in the movie.
"Our product will be integrated into the film somehow, so stay tuned," Saltzman said.
As SOAR Aerospace blasts off into the world of tomorrow, Mincey and Saltzman continue to find new ways of bridging the gap between technology and sports with the future of drone racing at UCF.