A credit-card sized device that provides an early warning system for people who have been diagnosed with heart failure is being developed at the University of Central Florida, which could mean better, less expensive options for patients with heart disease.

The non-invasive device, which would be placed at the chest surface, uses sound technology to monitor the deterioration of heart function. Information would be digitally sent to doctors, giving them a chance to plan for early interventions instead of having to react to sudden health emergencies. An estimated 5 million people in the U.S. have been diagnosed with heart failure and can benefit from this technology.

Hansen Mansy, an associate professor in the College of Engineering and Computer Science, and Dr. Richard Sandler, a professor in the College of Medicine, are working with local hospitals and a medical startup company on the project thanks to a $1.3 million grant from the National Institutes of Health. The Biomedical Acoustics Research Laboratory at UCF, directed by Mansy, will receive $535,766 of the grant.

The data could help patients and doctors determine earlier and less expensive treatment options, ultimately improving the patients' quality of life and reducing hospitalization, healthcare costs, and deaths.
"Ears are built to mostly hear communication sounds but when we construct specialized machines that can detect and analyze body sounds and vibrations, we can provide diagnostic tools that can contribute to saving and improving patient's lives. This is what I find most interesting."   -Hansen Mansy
Acoustics in Health Monitoring
Mansy, who has taught and conducted research in instrumentation, bio-acoustics and electromechanical systems design for more than 25 years, said he began exploring the heart monitoring technologies because of the success of earlier projects that measured lung and blood flow sounds. In the earlier research, he used sounds and vibrations to monitor the passage of air through endotracheal tubes that are commonly used during surgery. By digitizing the acoustic signals associated with air passing through the tube and lungs, the scientists were able to determine if the tube was correctly positioned and develop a method for alerting physicians when the tube was malpositioned, therefore reducing risks and complications and even death as a result of improper tube placement.

The use of acoustics in health monitoring may sound high-tech, but its origins lie as far back as 400 BC when Hippocrates, the Greek physician traditionally regarded as the father of medicine, recognized that by shaking a patient and putting an ear to the chest wall, sounds of abnormal liquid collections could be heard. Nowadays, listening to body sounds has become an integral part of physical exams. However, the procedure heavily relies on the skill of healthcare providers and mostly provides qualitative results.

That's where the modern science of bio-acoustics comes in.

"Ears are built to mostly hear communication sounds but when we construct specialized machines that can detect and analyze body sounds and vibrations, we can provide diagnostic tools that can contribute to saving and improving patient's lives. This is what I find most interesting," Mansy said.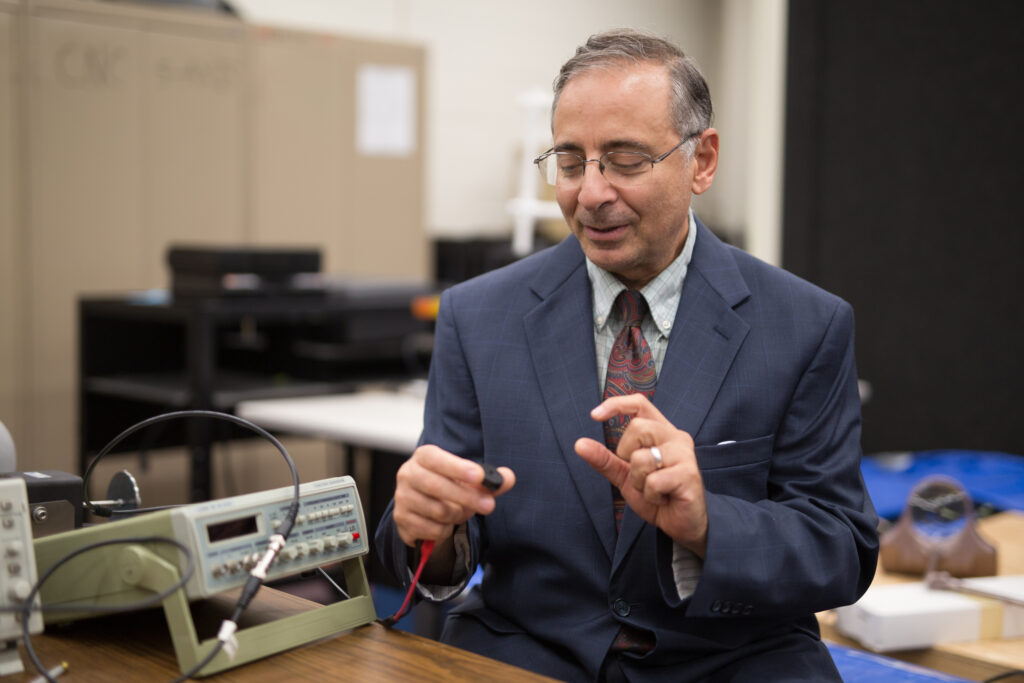 Tools to Stop Heart Failure
By spending time talking to physicians at Rush Medical College in Chicago, where he a faculty member before joining UCF, Mansy said he became aware that traditional tools such as the electrocardiogram (EKG) don't provide doctors sufficient information to monitor heart failure patients. While an EKG can trace the electrical signals that cause the heart to beat, it does not provide information about the actual pumping action or the health of the heart muscle.

In heart failure patients, the heart struggles to pump sufficient blood to the rest of the body. While a normal heart pumps about 50 to 70 percent of the blood inside it, the percentage drops below normal values for most of those with heart failure. This situation can lead to tiredness and fatigue, confusion and impaired thinking, nausea, buildup of fluid in the body and lungs, shortness of breath, persistent coughing, and increased heart rate as the weakened heart tries to work even harder.

The device being developed will enable doctors to constantly monitor the heart failure level in each patient to help determine if a problem is accelerating before it turns into a traumatic event.

Patients will be trained to position the device over their own chests until a sensor indicates that it is detecting "vibro cardiographic" waves, a graphic representation of chest vibrations produced by the heart activity. The scan is conducted typically once a day for about 30 seconds and, when complete, the patient uploads the data to a computer or a mobile device that sends the data via a secure portal to the physician, who will determine the best management strategy for that patient.

This research will integrate state-of-the art sensing and signal analysis technologies to maximize the accuracy of the device and will also test its effectiveness in monitoring heart failure patients.
Heart Disease Researchers
Mansy received his Ph.D. at the Illinois Institute of Technology and bachelor and master's degrees at Cairo University, Cairo, Egypt. He was associate professor of Bioengineering at Rush Medical College before joining UCF. He has been developing vibro-acoustic medical technologies for the past 20 years with continuous support from the National Institute of Health. He has supervised bioengineering student projects at Rush Medical College, University of Illinois at Chicago and UCF and has developed the bioinstrumentation, mechanical and aerospace engineering measurements lab facilities at UCF and Illinois Institute of Technology. Dr. Sandler completed medical school and a Pediatrics residency at Michigan State University and a subspecialty fellowship in Pediatric Gastroenterology at Harvard Medical School. He is a professor at the UCF College of Medicine and a pediatric gastroenterologist in Orlando, Florida. His research focus includes development of novel medical diagnosis and patient monitoring tools using acoustics and vibrations.