Sometimes you need a little bit of motivation to achieve your goals. Instead of relying on lists and planners, vision boards, and even friends and family to help you stay accountable, you can now use an artificial intelligence-based platform built by UCF mechanical engineering alumna Eduarda Ferreira.
That platform, socra, launched at the end of the March and has already gained more than 4,000 users. What sets it apart from other goal-setting apps or websites is that it combines advanced AI with a community-driven approach.
"Our AI coach, Socrates, provides tailored guidance, engaging interactions and continuous motivation, enhancing users' experience," Ferreira says. "A community-focused approach will allow users to create and share public journeys to collaborate on common goals. As we build the community and roll out new features, socra will become even more valuable in helping users reach their goals."
Socra is currently in beta testing and users can choose between a free plan with limited daily usage or paid plans with increased daily usage. Although socra is not yet available as an app, Ferreira hopes to develop one by the end of the year.
Users can sign up for the platform online. They're able to create journeys, set up daily tasks and use checklists to stay organized. Ferreira says some of the more common goals that users aim to accomplish are getting fit and starting a new business. She says that even she has used socra to stay on track throughout the creation process.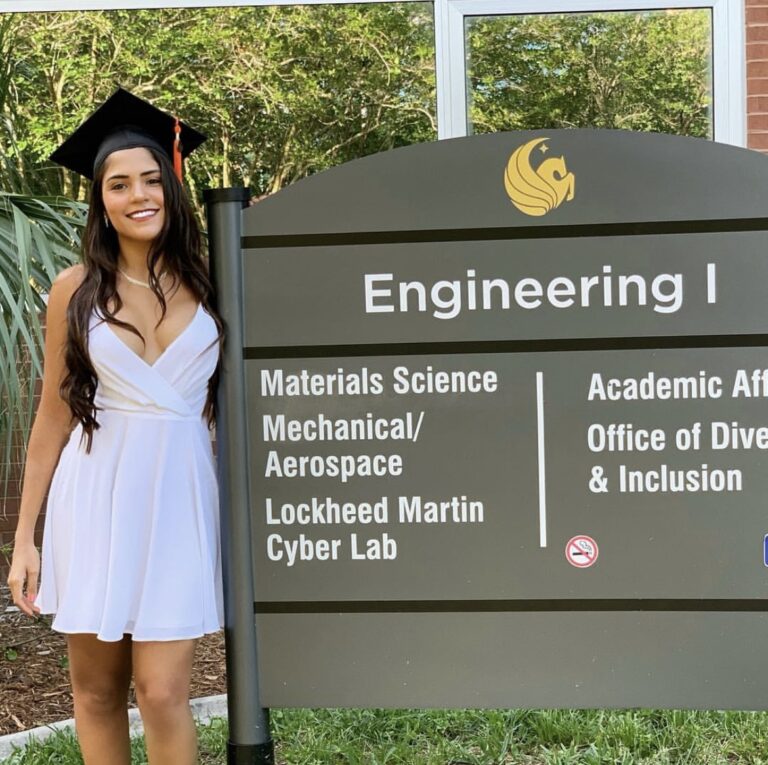 Goal achievement isn't just the purpose of socra – it's also one of Ferreira's strengths. As a student, she secured an internship and a co-op with Siemens, experiences that set her on the path toward entrepreneurship. 
"At Siemens, my manager noticed my passion for 3D printing and suggested I start my own business," she says. "I followed that advice, launched a 3D printing company, and later became a contractor for Siemens."
After she graduated from UCF with her bachelor's degree in 2019, Ferreira went to work at Texas Instruments, where she balanced her 3D printing business alongside her full-time job. She then sold the business for a profit during the pandemic and moved into a supervisory role at Texas Instruments.
Most recently, Ferreira worked for ICON, a startup focused on 3D-printed construction. She left the company in August to devote her time to socra. She says that her professional experience, along with her education from UCF, taught her valuable lessons that she now uses as a business owner. She specifically credits her engineering leadership class with teaching her a crucial lesson: that creativity can be learned and improved upon.
"Dr. Hoekstra's techniques, like seeking inspiration in different settings and brainstorming multiple ideas, helped me let go of needing instant perfection," she says. "This mindset has been crucial in my career, both in my previous companies and now at socra."
To start setting and achieving goals, visit socra.com.