Two Burnett Honors Scholars, Rishi Basdeo and Emma Shafer, were the recipients of the prestigious Astronaut Scholarship this year.
The scholarship, which is awarded by the Astronaut Scholarship Foundation to promising STEM students seeking to conduct graduate research and advance their fields, is highly competitive. Since 1986, 39 scholarships have been awarded to UCF students. This year, 56 students from 41 universities nationwide were recipients of the Astronaut Scholarship. Astronaut Scholars will be honored at the Innovators Gala on Aug. 22 in Washington, D.C.
Future Prosthetics Engineer
Basdeo, a mechanical engineering and biomedical sciences major, plans on pursuing a graduate degree in biomedical or rehabilitation engineering after graduation. Ultimately he wants to become a prosthetics engineer, developing assistive technology for those in need. A passion for science runs in Basedo's family — his father was a research scientist, and his mother worked as a pharmacist. Both encouraged his ambitions.
"Since my early childhood, they've always been supportive of my need to build all kinds of whimsical inventions, like a toy train-powered dishwasher," he says. "Even though most of my creations never made it past the diagram phase, they always made me feel like I could make a difference with my designs."
Basdeo decided to study at UCF, in part, because of the MEDD (medicine-engineering double degree) offered through a partnership between UCF's College of Engineering and Computer Science, College of Medicine, and Burnett Honors College. He says the cross-disciplinary program will give him a holistic understanding of his future career path.
"As a prosthetics engineer, I will be likely to work alongside doctors and physical therapists, so having that grasp of the basics of their fields will make me a more effective communicator and collaborator, allowing us to develop more impactful devices," he says.
At UCF, Basdeo co-founded the UCF chapter of Global Engineering Brigades, a student organization to help develop water sanitation and distribution systems abroad in Honduras. He's built portable health diagnostic devices that are currently being used in UCF studies. And he has been active with the Limbitless Solutions nonprofit to construct and maintain prosthetics for kids.
"Seeing the transformative power of 3D-printed bionic arms in the lives of children inspired me to dedicate my life to improving the quality of life of children around the world," he says.
Currently, Basdeo is conducting undergraduate research in the lab of Michael Hampton, a professor in the Department of Chemistry. There, Basdeo is designing a device called a microscale gas chromatograph to analyze the chemical signature of emotions. The device could have other uses too, ranging from predicting the wandering behavior of Alzheimer's patients to forecasting the emergence of harmful algal blooms.
"Rishi has demonstrated the drive, passion, organization, and way of thinking that will allow him to be a great success in research," Hampton says.
Basdeo expects the mentorship provided by the Astronaut Scholars program will help him develop invaluable connections with others in his desired field. And he plans to pay it forward. "I hope to mentor students like me to help them embark on their journey toward making an impact in their own communities," he says.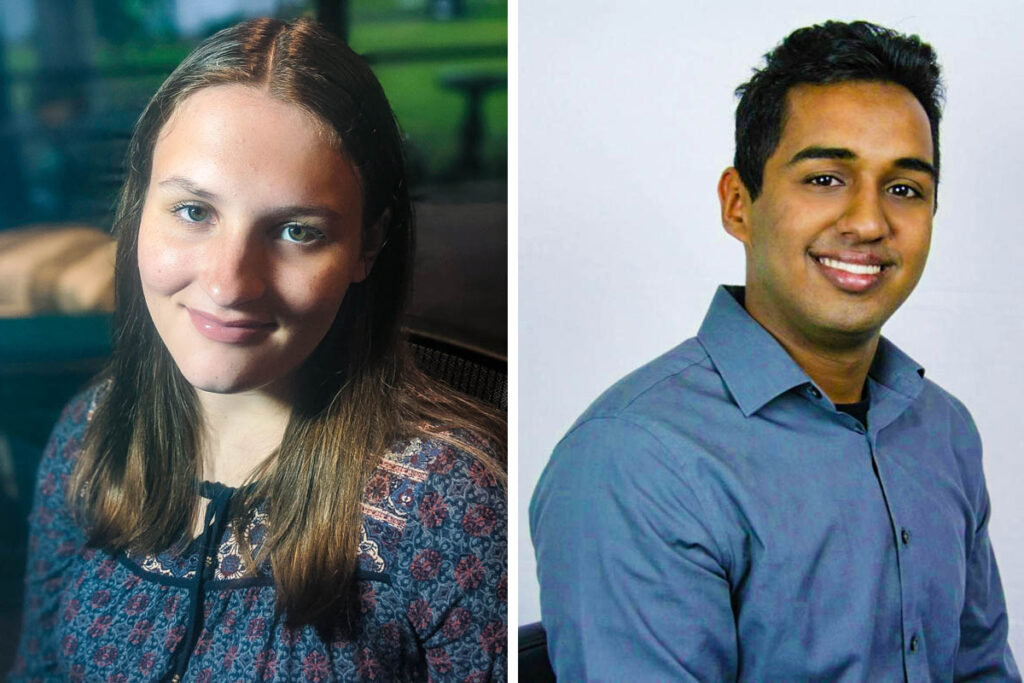 Emma Shafer, an aerospace engineering major, knew she wanted to pursue a career in STEM, but she wasn't sure of which passion — zoology or spaceflight — to follow. But after viewing a documentary on the Hubble Space Telescope in middle school, her mind was made up.
"When I was in 7th or 8th grade, I saw an IMAX documentary in the Challenger Center in Tallahassee about the Hubble Space Telescope, and I fell in love with that documentary," Shafer says. "That documentary brought out my passion for spaceflight, and after the movie, I told myself I want to work in the spaceflight industry."
Aerospace engineering was a natural choice for Shafer, who chose to earn her degree at UCF because of the reputation of its program and its proximity to the Kennedy Space Center. As a National Merit Scholar, she was also greatly attracted to the honors program.
In the two years that she's been at UCF, she's built up quite the list of extracurriculars. She's been an active member of the Students for the Exploration and Development of Space (SEDS) as well as the newly formed Society of Women in Space Exploration (SWISE). She also works in the Vasu Lab, where she conducts research under the guidance of Associate Professor Subith Vasu, who says he's impressed with her work thus far.
"Emma is a highly motivated, ambitious, and smart undergraduate student," Vasu says. "She came to me as a freshman to become involved in my research and since then she has done a tremendous job."
When she's not in the lab or in class, Shafer likes to volunteer as a tour guide for the American Space Museum in Titusville. Eventually, she hopes to work for NASA or Blue Origin, but she plans to attend graduate school first. The Astronaut Scholarship will not only fund her graduate school tuition, it will also provide her with access to a network of mentors that will help Shafer continue her research on space exploration.
"Advancing space exploration will help humanity in countless ways, and I hope to be a part of that," Shafer says.
If you are a student interested in learning more about the Astronaut Scholarship or one of the many other STEM-related scholarships available, contact Morgan Bauer, director of the Office of Prestigious Awards, at OPA@ucf.edu. Astronaut Scholarship nominees must be U.S. citizens and be in their sophomore or junior year.