You never know who you'll meet throughout your career. As you grow your network, you could encounter someone who knows someone — who knows you. Or, you could wind up working with someone with ties to your alma mater.
That's exactly what happened to alumna Emily Judd, '16, who works alongside Katie McBrayer, the granddaughter of Professor Emeritus James D. McBrayer. He previously taught at the UCF Department of Mechanical and Aerospace Engineering, where Judd earned her Bachelor of Science in Aerospace Engineering.
Judd and McBrayer are moth aerospace engineers working on aerospace vehicle design and mission analysis as part of the Space Mission Analysis Branch (SMAB) at the NASA Langley Research Center in Hampton, Virginia.
"Since we've been teleworking since mid-March of 2020, we've mostly gotten to know each other virtually, through working on the same project team, branch activities, and informal chats and video calls," Judd said. "I have enjoyed this, and in particular, I've liked getting to see Katie's cat!"
Earlier this year, Judd interviewed McBrayer for a profile for Langley's SMAB Stories series, which highlights the people behind their projects.
"Katie's feature on her science mission work was a great way to showcase how her SMAB systems analysis provided details for mission opportunities that enabled the team of space scientists to move forward with their concept in a more informed manner," Judd said. "Besides describing the project, we were also able to show more of the process and learn more about Katie."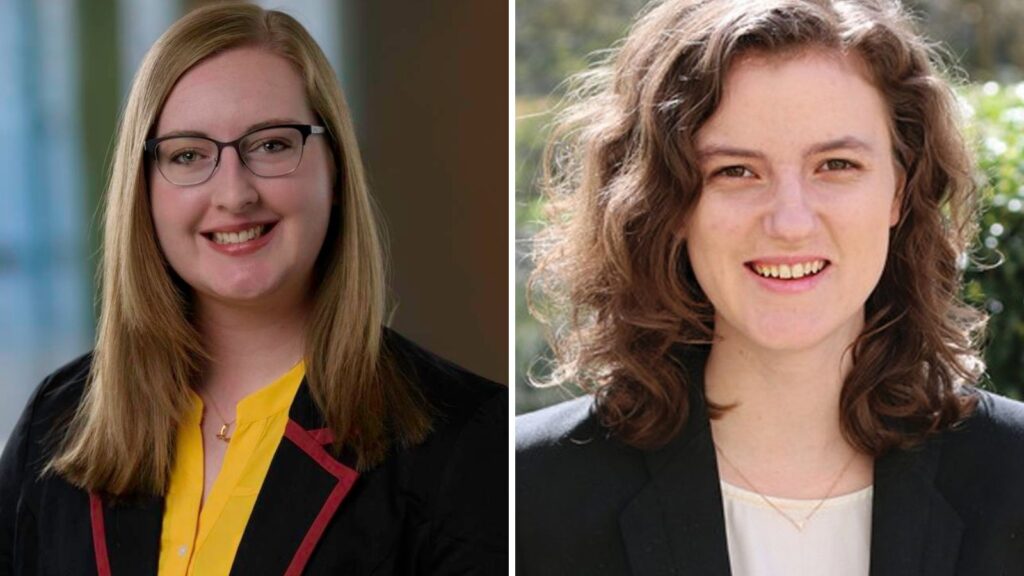 Making Industry Connections
Although they both attended college in Florida, they each took different paths toward their careers at Langley. After she graduated from UCF, Judd interned at Langley's Advanced Materials and Processing Branch. She completed a second internship, this time at Langley's SMAB, as a graduate student at the University of Michigan. Meanwhile, McBrayer attended Embry-Riddle Aeronautical University before continuing her education at Georgia Tech. She heard about an open position at Langley from another student in her lab. She got the job, and started it right after graduation, as did Judd.
Now, McBrayer supports projects like the Moon2Mars program and the Earth Science Designated Observables missions. Judd has assessed concepts for space missions, estimated costs for specific elements of those missions, and analyzed the options to send humans to the moon and to Mars.
The two have also proved that it really is a small world after all. You never know who you may be connected to in the industry, but those connections can be invaluable. Judd said that a strong industry network can help you gain new perspectives, expand your knowledge, share advice, and make new friends. Of course, it can also help you land a job, as it did for McBrayer.
"I got an internship, and, actually, this position, in part because I knew people in my research lab who knew people in SMAB and who were able to help me in my job search and application process," McBrayer said. "You never know who is going to end up really giving your career that boost.