Like many college students, Gabriel Torres dos Santos Mechi spent his Spring Break studying abroad. Unlike most college students, his study abroad experience gave him a new perspective on his own home country.
Mechi, an aerospace engineering major from Brazil, was one of nine students to participate in this year's study abroad trip to São Paulo, hosted annually by the College of Engineering and Computer Science. The trip usually includes visits to several universities, a tour of aircraft manufacturer Embraer's headquarters, and of course, a little bit of sightseeing. The goal is to provide students with a global perspective on engineering.
""The most interesting part about it all is that I had to come to another country to have the chance to visit a company that was always there next to me."   -Gabriel Torres dos Santos Mechi
Mechi hails from Curitiba, in the state of Parana, one state south of São Paulo. Although he's a native of Brazil, he said that the trip allowed him to meet people and see places that he wouldn't normally have access to as a Brazilian citizen.
"The main reason I applied to this program was to visit and gain knowledge about Embraer," Mechi said. "Being inside of their facilities, talking with their highly skilled engineers and touching those airplane pieces wouldn't be possible it wasn't for the study abroad program."
The experience was a memorable one for Mechi. Aside from the visit to Embraer, one of his favorite parts of the trip was the tour of the Brazilian Synchotron Light Laboratory, where he witnessed the construction of one of the world's most technologically advanced particle accelerators.
But it wasn't just the places he saw, but the people whom he met that had the most impact. He said the biggest lesson he took away from the trip is that great connections come from great interactions.
"The best part of the trip was definitely the people that I had the chance to meet, the connections [I made] that might change my future path," Mechi said. "These people showed me work and educational possibilities that I did not consider before."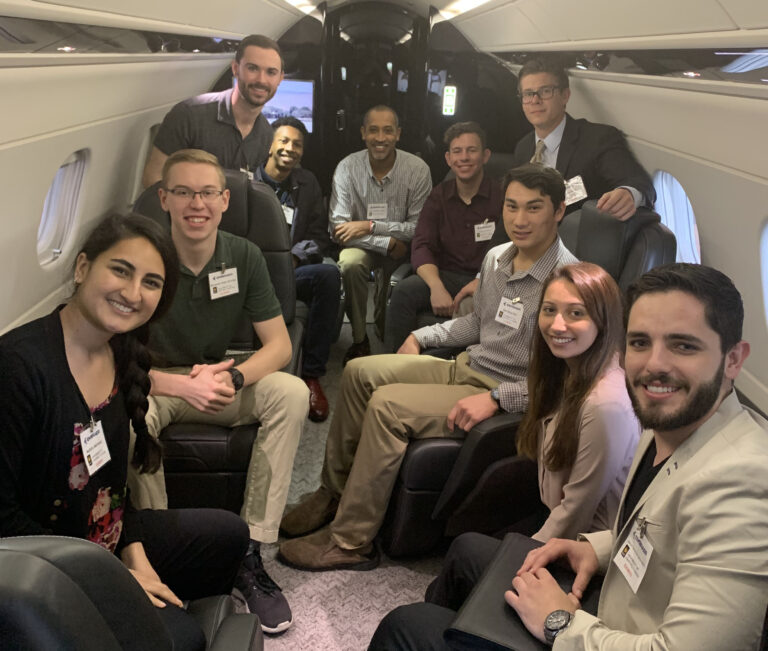 Mechi chose to become a Knight because of of the reputation of UCF's aerospace engineering program. After he earns his bachelor's degree, he hopes to gain experience in the field. He said he'd like to find the particular area that suits him best and, eventually, find solutions for some of the industry's most prevalent issues.
Although being an international student presents daily challenges such as homesickness, language barriers and culture shock, Mechi credits UCF Global with helping him adjust. In the same way, he was able to help the other students on the study abroad trip adjust to being in his home country.
"Applying that knowledge in a reverse-engineering way, I could understand and predict the difficulties that my classmates would face in Brazil," Mechi said. " I decided to help them to overcome and understand cultural differences to make that trip the most enjoyable experience as possible."
Whether he was learning about the industry or teaching his peers about his culture, one things for sure — no one has had a study abroad experience experience quite as unique as Mechi's.
"The most interesting part about it all is that I had to come to another country to have the chance to visit a company that was always there next to me," he said.