NASA has turned to UCF to develop a new way of powering and heating spacecraft when they are far from the sun and solar energy isn't practical.
UCF was one of 14 universities awarded grants under NASA's Space Technology Research Grants' Early-Stage Innovations program, a prestigious funding competition that aims to accelerate the development of groundbreaking, high-risk/high-payoff space technologies to support the future space science and exploration needs of NASA.
Mechanical and aerospace engineering Associate Professor Subith Vasu leads the team that will use the three-year $550,000 award to develop storable chemical heat sources that can be controlled to provide heat and electrical energy, even in the very hot or very cold conditions found on some planetary destinations. Vasu, who is also affiliated with the Florida Space Institute, has expertise in rocket propulsion, hypergolic propellants and hybrid propulsion.
Developing Better Power Systems
According to NASA, objects in space easily reached by our current technology and power systems – mostly solar or radioisotope – have been achieved. But to go farther, a better power system is needed.
"Our proposed approach is to use stored chemical-energy sources," Vasu says. "A thermal source with high specific combustion enthalpy could provide thermal energy necessary for some longer missions."
A solid-chemical heat source, which produces high exergy heat would enhance NASA's abilities to operate thermal generation centers on "hot" environments such as Venus, or alternatively provide the mission critical heat necessary for icy world explorations, or deep-space exploration in addition to simultaneously providing electrical power, he says.
Florida Space Institute researcher Richard Blair is the co-investigator on the project. His research area focuses on designing catalysts for energy applications and propulsion and his prior experience was in the Thermal Energy Conversion and Advancement Group of NASA's Jet Propulsion Lab.
Walt Engelund, deputy associate administrator of programs within NASA's Space Technology Mission Directorate in Washington said the researchers selected were talented and that they are "poised to help us look at challenging aspects of space exploration in new ways" and "accelerate innovation for critical space technologies."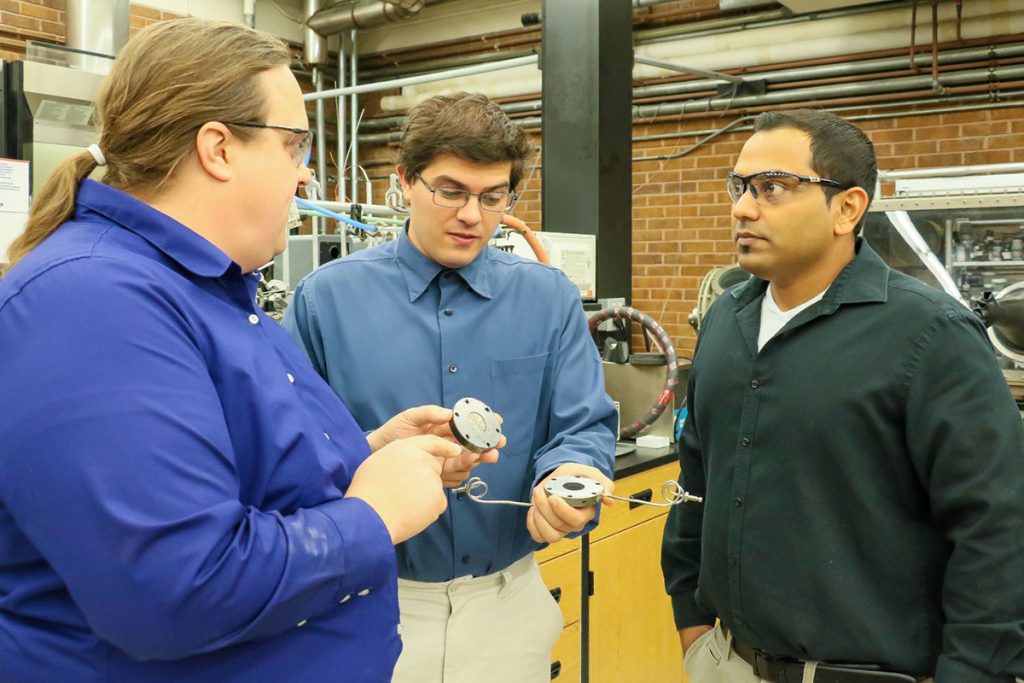 Vasu has a doctorate in mechanical engineering from Stanford University. He has earned multiple awards and made headlines the past few years for applying his expertise in the area of chemical combustion and energy-to-energy storage, toxic detection and space technologies. He previously had a grant for creating a fire alarm that would work aboard spacecrafts. Vasu joined UCF in 2012 after serving a postdoctoral appointment at Sandia National Laboratories in California. In addition to two graduate students, Anthony C. Terracciano, a research associate in Vasu's team, will also assist with the project.
Blair holds a doctorate in materials chemistry from the University of California at Los Angeles. Before joining UCF, he worked in industry and academia with stints at Advanced Micro Devices in California and the Jet Propulsion Laboratory among others. He joined UCF in 2007.