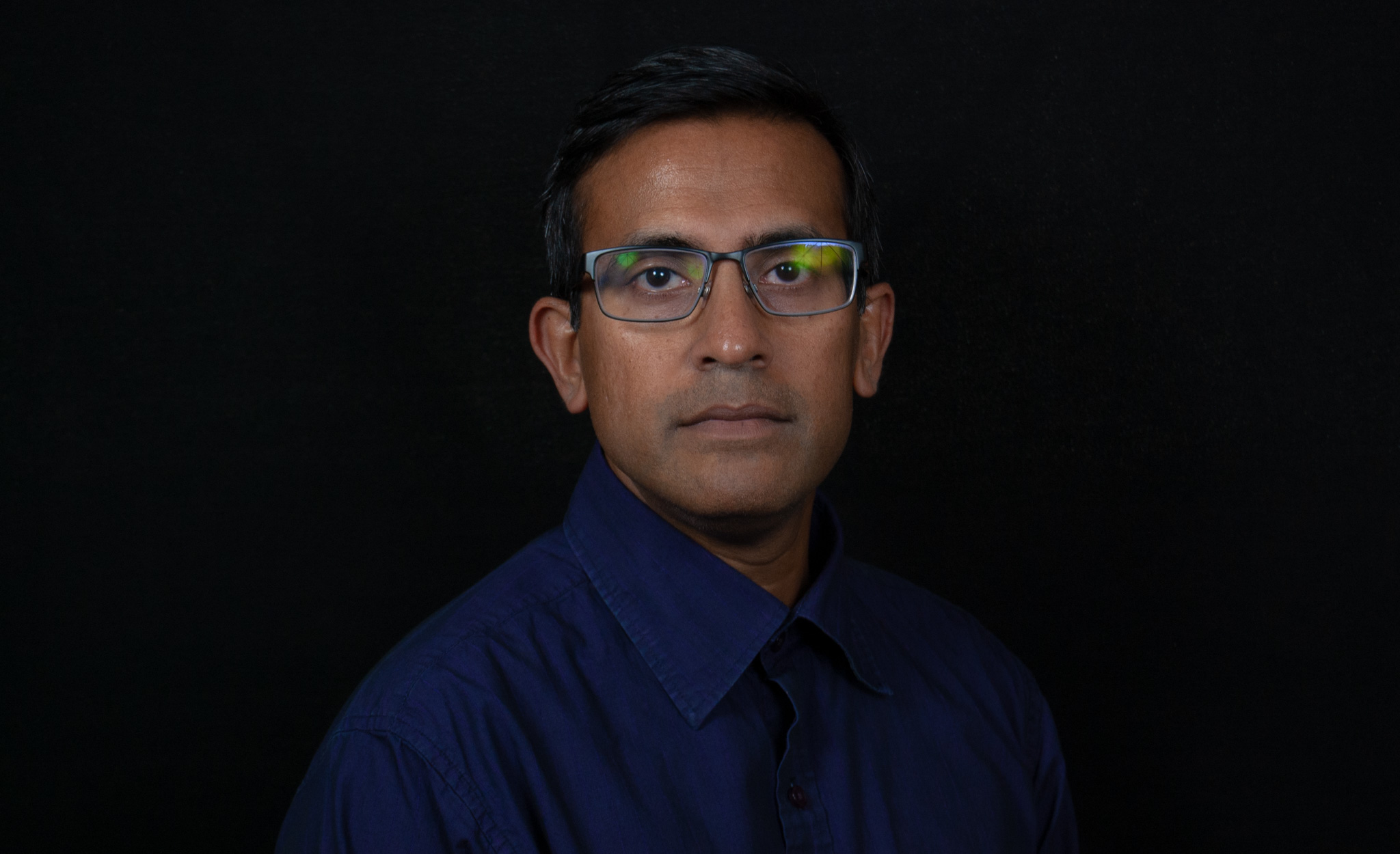 Professor
Email: tuhin.das@ucf.edu
Phone: 407-823-5792
Office: ENG I, Room 218
Office Hours: Mondays, 2-5 p.m., Thursdays, 12-1 p.m., Fridays, 1-3 p.m.
Tuhin Das received his Bachelor of Technology in mechanical engineering from the Indian Institute of Technology, Kharagpur, in 1997, and his M.S. and Ph.D. degrees in mechanical engineering in 2000 and 2002, respectively, both from Michigan State University. His graduate research was in the field of dynamics and control with application to robotics. He worked in the industry from 2002 to 2006 where he gained extensive experience in dynamic modeling, simulations (including real-time and hardware-In-the-loop simulations), and control with application to fuel cells, automotive systems, etc. From 2007 to 2011, he was an assistant professor of mechanical engineering at Rochester Institute of Technology. Das joined UCF in 2011, where he is currently an associate professor of mechanical and aerospace engineering.
His research is in the area of dynamics and controls, with applications to energy systems (such as fuel cells, energy storage, wind energy systems, power plants, grids), robotics (such as mobile robots, biomimetic robots), sensing (such as, compressive sensing, mobile sensing). His research has been funded by several extramural agencies and intramural sources, such as the National Science Foundation, Office of Naval Research, Siemens Energy. He is an active member of the ASME Dynamic Systems and Control Division and was a co-founder of the Energy Systems Technical Committee.
Dynamics and control
Robust control
Nonlinear systems
Sensing
Energy systems
Dynamic modeling and simulation
Real time simulation
Hybrid fuel cells
Wind energy
Power plants
"Integral Feedback for a Class of Nonlinear Systems: Absolute Stability and Induced Limit Cycles," S. Abeysiriwardena, T. Das, ASME Journal of Dynamic Systems, Measurements and Control, Vol. 140, Apr. 2018, pages 041009-(1-8) (doi:10.1115/1.4037837)
"Vibration-based Monitoring and Diagnostics using Compressive Sensing," V. Ganesan, T. Das, N. Rahnavard, J. Kauffman, Journal of Sound and Vibration, Vol. 394, Apr. 2017, pages 612-630, (doi: 10.1016/j.jsv.2017.02.002).
"Feedforward Control in Solid Oxide Fuel Cells", O. Madani, T. Das, Control Engineering Practice, Vol. 56, Nov. 2016, pages 86-91, (doi: 10.1016/j.conengprac.2016.08.008)
"An Adaptive Observer for Recirculation based Solid Oxide Fuel Cells", S. Abeysiriwardena, T. Das, ASME Journal of Dynamic Systems, Measurements and Control, Vol. 138, No. 8, 2016, 081004-(1-11) (doi:10.1115/1.4033271)
"Absolute Stability Analysis Using the Lie'nard Equation: A Study Derived from Control of Hybrid Fuel Cells", W. Nowak, D. Geiyer, T. Das, ASME Journal of Dynamic Systems, Measurements and Control, Vol. 138, No. 3, March 2016, pp. 031007-1 – 031007-10 (doi:10.1115/1.4032318)
"Decentralized Power Management in a Hybrid Fuel Cell Ultracapacitor System", O. Madani, A. Bhattacharjee, T. Das, IEEE Transactions on Control Systems Technology, Vol. 24, No. 3, 2016, 765-778, (doi: 10.1109/TCST.2015.2464295)
"Invariant Properties of Solid Oxide Fuel Cell Systems with Integrated Reformers", A. Slippey, O. Madani, K. Nishtala, T. Das, Energy, Vol. 90, Part 1, October 2015, pp. 452-463. (doi: 10.1016/j.energy.2015.07.076)
"Nonlinear Systems Analysis and Control of Variable Speed Wind Turbines for Multiregime Operation", G. Semrau, S. Rimkus, T. Das, ASME Journal of Dynamic Systems Measurement and Control, Vol. 137, No. 4, April 2015,(doi: 10.1115/1.4028775)
UCF College of Engineering and Computer Science Excellence in Graduate Teaching Award, 2016
Honorary Pi Tau Sigma inductee, 2009
American Society of Mechanical Engineers
Institute of Electrical and Electronics Engineers
ASME Dynamic Systems and Control Division
Co-founder and inaugural chair of the Energy Systems Committee of the ASME Dynamic Systems and Control Division
EGN 3321: Engineering Analysis – Dynamics
EML 4225: Introduction to Vibration and Controls
EML 4313: Intermediate System Dynamics and Controls
EML 5271: Intermediate Dynamics
EML 5311: System Control