Mechanical engineering Associate Professor Tuhin Das is developing simulation software that could transform the design and production of floating offshore wind turbines. These turbines have the potential to produce a lot of energy for consumers, but they face some hefty challenges such as high winds and huge crashing waves.
A federal agency is funding Das to come up with modeling and simulations that will overcome those challenges. To date the only floating wind-turbine farm in operation lies off of the coast of Scotland. The United States could be next if Das' work is successful and a prototype is constructed.
"Nearly 60 percent of estimated offshore wind energy resources lie in waters too deep for traditional bottom-fixed offshore wind turbines to access, both practically and economically," says Mario Garcia-Sanz, director of Aerodynamic Turbines, Lighter and Afloat, with Nautical Technologies and Integrated Servo-control program, better known as ATLANTIS.
"Instead of retrofitting traditional land-based wind turbines with devices that will make them float, we will take a couple of steps back and perhaps start afresh. That way, you won't use a design that's very hard to control when floating."            -Tuhin Das
ATLANTIS is part of the Department of Energy's Advanced Research Projects Agency – Energy. This agency recently awarded Das a $771,000 grant to complete the work. He is the first at UCF to receive funding from the agency, which focuses on developing transformative technologies to reach and take advantage of these offshore untapped resources.
"Instead of retrofitting traditional land-based wind turbines with devices that will make them float, we will take a couple of steps back and perhaps start afresh," Das says. "That way, you won't use a design that's very hard to control when floating."
Because it isn't feasible for researchers to develop an experimental facility, Das is developing software that will model floating wind turbines and simulate effects such as waves crashing against the platform and the motion of the platform as it floats. He will conduct the research in the Hybrid Sustainable Energy Systems Lab at the Department of Mechanical and Aerospace Engineering. The model will be subjected to standard test cases provided by other ATLANTIS teams that will collaborate with Das.
Researchers at the University of Maine will generate experimental data and the National Renewable Energy Laboratory will validate Das' model against OpenFAST, a similar software for land-based wind turbines that serves as the benchmark for the industry. Both the laboratory and the University of Maine are funded through the ATLANTIS program under separate projects.
Das is excited about working with the researches from Maine and NREL because they are leaders in the field.
"They have built this fantastic system called OpenFAST," he says. "They have experimental facilities and they have some brilliant researchers, and so it's great to talk to them, understand their perspectives and make impactful contributions to this technology."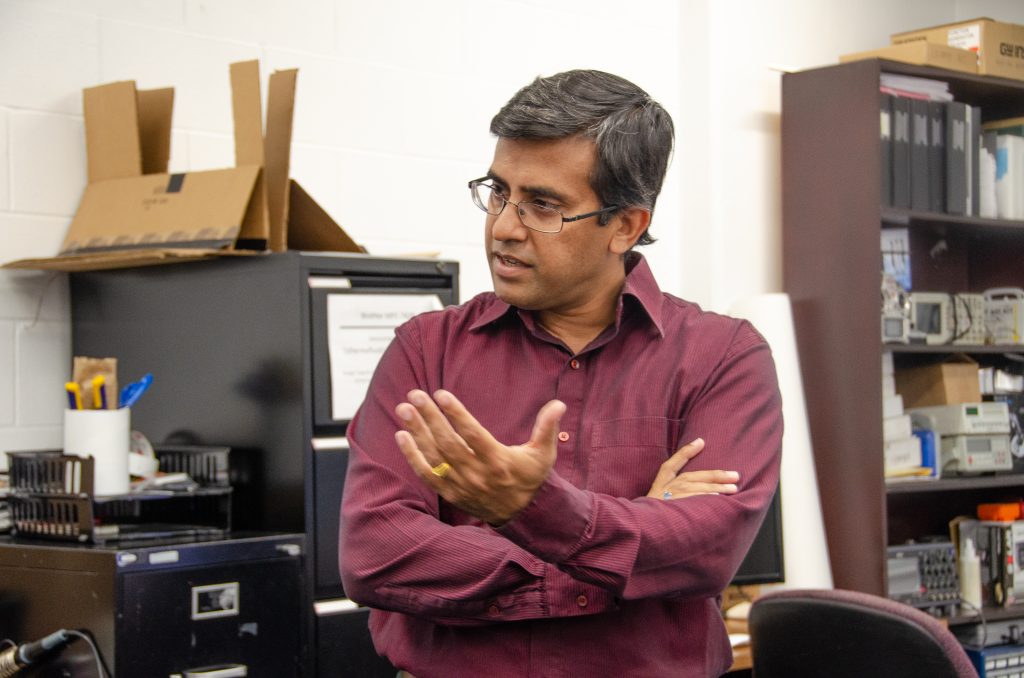 This is the second award Das has received from the agency this year. This past summer he won $25,000 for a third-place finish in the organization's ATLAS contest, which asked participants to design and test solutions for issues associated with either land-based or offshore floating wind turbines. Das created an algorithm that aims to reduce the negative effects of wind and wave-induced perturbations on the floating platform, which lead to reduced wind energy extraction.
"Definitely I think the success in the ATLAS competition helped," Das said. "Our design that we submitted was evaluated by ARPA-E and NREL, so I think a good performance in that competition gave us quite a bit of credibility going into this program."
Das, who manages the Hybrid Sustainable Energy Systems Lab, is looking for a postdoctoral scholar to join his team of students who will assist with the ATLANTIS project. Applicants must have a doctorate in mechanical engineering or a related field, experience in modeling and simulation as well as control systems, and excellent oral and written communication skills. Send a CV, at least two references and a cover letter to tuhin.das@ucf.edu for consideration.
Energy is a key area of research for UCF. Many faculty members have received funding for energy research and UCF is home to FSEC Energy Research Center. UCF also supports two clusters of interdisciplinary faculty members who are working in various areas to make breakthroughs in energy sources, delivery and storage.
Das, the principal investigator on this grant, earned his doctorate and master's degree, both in mechanical engineering, from Michigan State University. He joined UCF in 2011.