Twenty years ago, the Cabrera family, including then 12-year-old Alejandro, arrived in the U.S. The Cabreras originated from Cuba, but the period of economic crisis known as El Periodo Especial, or The Special Period, forced them to seek refuge in Costa Rica when Alejandro was just six. Knowing that "the land of opportunity" could hold a better future for them, the Cabreras packed up once again and headed to America.
After two decades of living in the U.S., and a nine-year college journey that included deployment, a hurricane and the stress of taking algebra and calculus, mechanical engineering major Alejandro Cabrera can officially call himself a college graduate and the proud owner of a bachelor's degree.
"My journey has been long, but if I can do it, then anybody can," he said. "You must keep pushing forward and not let anything stop you from [pursuing] your dreams."
"My journey has been long, but if I can do it, then anybody can. You must keep pushing forward and not let anything stop you from [pursuing] your dreams."   -Alejandro Cabrera
The Road to a Bachelor's Degree
Although he always enjoyed school, college was never in the cards for Cabrera, who couldn't stand math. He enrolled at the Universal Technical Institute instead, where he trained to become an automotive technician. But after a few years of working in the field, he realized that opportunities for advancement were limited. So he joined the Florida Army National Guard, which would allow him to earn a degree and serve his country at the same time.
He enrolled at Santa Fe College in Gainesville as an engineering major. The problem was, engineering required a strong foundation in math, the subject Cabrera loathed. But after two years of intensive tutoring, Cabrera conquered his algebra and physics classes to earn his A.A. degree in 2015.
Cabrera then enrolled at USF to earn his bachelor's degree in mechanical engineering. He nearly completed his first semester when he was notified by the National Guard that his unit was being deployed to Dijibouti, Africa, in support of Operation Enduring Freedom.
"Our mission was to secure a military base in that country, and we were going to be over there for nine months," Cabrera said. "That news really shocked me because even though I really wanted to deploy, I also wanted to continue my education, but I had no choice."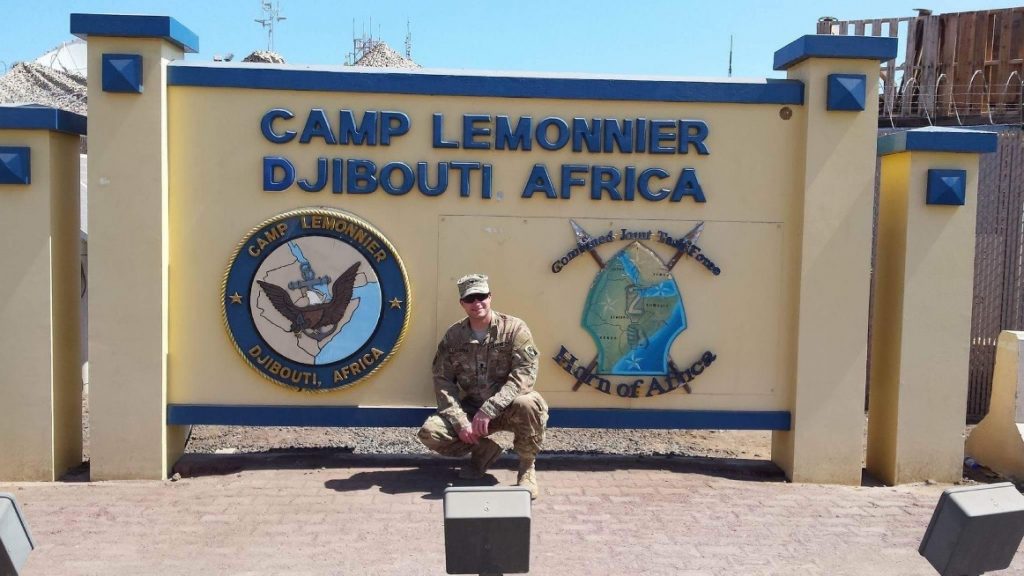 Cabrera served in Africa for almost a year. But when he returned in spring 2017, he found that other challenges awaited him at home. His girlfriend, whom he lived with before deployment, had moved from Tampa to Orlando, which meant he now had a longer commute to USF.
Then, just a few months later, Hurricane Irma struck and Cabrera's unit assisted the state with clean-up in the aftermath, which put him behind in his studies. Between falling behind and the 75-minute commute, Cabrera decided to transfer to UCF. After he enrolled, things started to turn around for him.
"That summer, I completed an internship with John Deere in Iowa which I really loved, and that experience sparked the fire in me to push through my degree with extra motivation," he said. "Midway through my internship, I completed my military contract. So after eight years, I was a civilian and did not have to worry about going to military training [again]."
Not long after that, Cabrera completed a second internship, this one with Caterpillar. He says he left the internship with renewed drive and focus. He decided he wanted to work for Lockheed Martin, specifically at its Marietta, Georgia, location — and that's exactly what he's going to do. This past November, he accepted an offer to work there as a manufacturing engineer. He says he's extremely grateful for this opportunity, and for the journey that led him there.
"I'm fortunate for all of the amazing people I was able to study with across three different schools. I'm fortunate for all the people I got to network with during my two internships," Cabrera said. "Most importantly, I'm lucky to be able to have served this country, which has given me and my family so many opportunities and a life we couldn't have imagined."