When mechanical engineering student Kylan Brooks traveled to São Paulo as part of a 2018 study abroad trip, he had no idea how much impact the experience would have on his career.
Brooks was one of eight engineering students who participated in the first study abroad trip to Brazil as part of the class, Contemporary Projects in Aerospace Manufacturing.
During the semester, students traveled to the local facilities of Embraer, the world's third largest aircraft manufacturer, as well as the conglomerate's headquarters in Brazil. The goal was to provide students with a global perspective on engineering, but Brooks ended up with something even better — a job with Embraer.
Brooks now works as a product development engineer at the Embraer Engineering and Technology Center in Melbourne. He's part of the team that designs the interiors of customizable executive jets.
He says his experience in Brazil, and the lessons he learned there, provided him with the ultimate preparation for the job interview.​
"I had been to the site where my interview was being held many times before — I'd even been to Embraer's headquarters in Brazil, which I later found out is rare even among other engineers at the EETC — so my standard preparation of learning about the company before the interview was already at a 12 out of 10," Brooks said. "This confidence going into the interview allowed me to stay calm and answer their questions as eloquently as I could, which undeniably helped me get brought on board."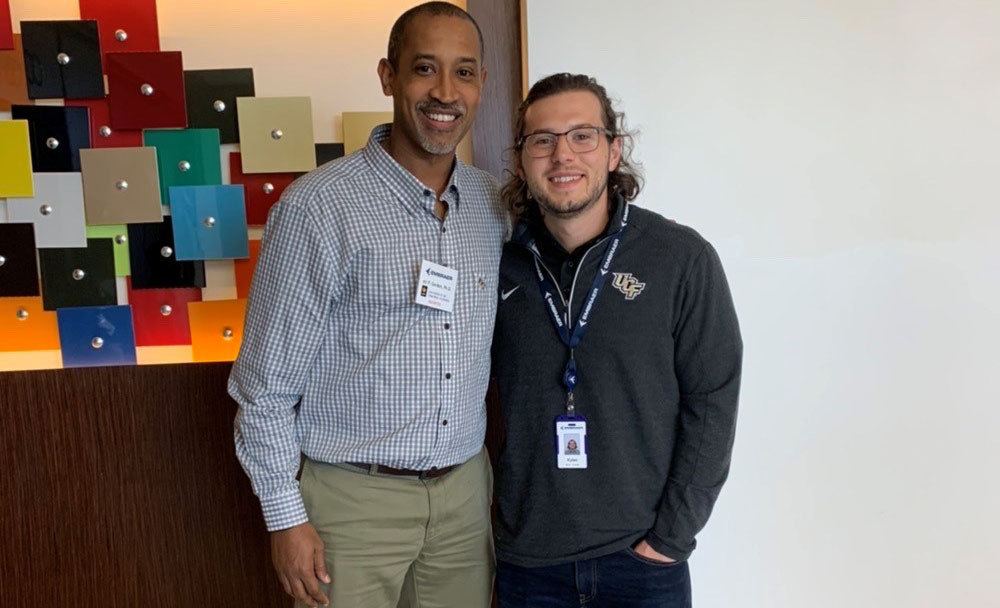 The MAE alumnus, who graduated in 2019, also credits his time at UCF with instilling in him two important traits that have already proven useful in his new position: initiative and problem-solving skills.
"These traits stem from the independence and self-accountability I learned at UCF," Brooks said. "Whether you want to perform exceptionally, stand out to others at work or be financially independent, it's going to take work and planning. To speed up this process, initiative and problem solving will be what get you noticed."
A strong set of coding skills may not hurt either. To complement his mechanical engineering major, and to learn a set of skills that are highly in demand, Brooks chose to minor in computer science. He's now applying that knowledge at Embraer, where part of his duties include writing scripts and codes that will make some of the more time-consuming processes faster and more efficient.
As the third group of students prepares to embark on this year's study abroad trip, Brooks urges them to just have fun and soak in the once-in-a-lifetime experience. He also advises them not to stress out about their capstone Senior Design projects, or about getting a job post-graduation, because it will all work out in the end.
"Think about the resume you want to have by the time you graduate. From there, focus on the week, month or semester ahead and starting working on what you can do to be that person by the time you're handed your degree," he said. "Any goal you want to achieve is going to be a grind. You'll have to work hard day to day, but before you know it, you'll be there."