Gonzalo Sauri '18 was a middle school student in the Orange County Public School System the day his world of possibilities opened up.
Para la versión en Español, oprima aquí.
Growing up as a kid who loved science and engineering but never saw scientists who looked like him, the Peruvian American tried to heed his father's advice: "Just because they don't look like you, doesn't mean you can't do what they do."
But that all changed after he got an unexpected confidence boost when students from UCF's Society of Hispanic Professional Engineers (SHPE) chapter visited his middle school to discuss the benefits of pursuing STEM fields.
"I was blown away when they looked just like me — brown and different shades," says Sauri, who went on to be become the president of SHPE while earning his degree in mechanical engineering. "I committed myself to how can I get to where they are? And ever since then my goal has been how can I support other minorities to have more opportunities because I think diversity in the workplace is important."
Which is why Sauri seized an opportunity to partner with his employer, Accenture, a consulting and professional services company, to make a lasting impact at UCF.
Opportunities at Accenture
Sauri, who is a senior analyst at Accenture's Tampa office, has led the company's Hispanic-American Employee Resource Group in Tampa for the last two years and was instrumental in including UCF in Accenture's annual giving campaign in support of Historically Black Colleges and Universities (HBCU) and Hispanic Serving Institutions (HSI). UCF was designated as an HSI in 2019.
That investment and support is what contributed to the creation of UCF's Vamos Knights Fund in May, which will help the university develop scholarship and fellowship opportunities for students, as well as provide faculty and staff with the resources necessary to better serve students through research activity and other professional development programs.
Sauri has been a vocal advocate at Accenture for the strength of UCF's degree programs and graduates after he landed an internship that eventually turned into a full-time position.
"The reason I pushed so hard for it was because as a proud UCF graduate, I think giving back to the university that has given me so much was a top priority," he says. "I think UCF is a hot spot for talent and if Accenture didn't start investing more into the school, we would miss out on pipeline for top diverse talent."
Sauri credits the numerous employees — some of them fellow UCF alumni — in Accenture's offices around the south region who contributed to his push to help get the fund created.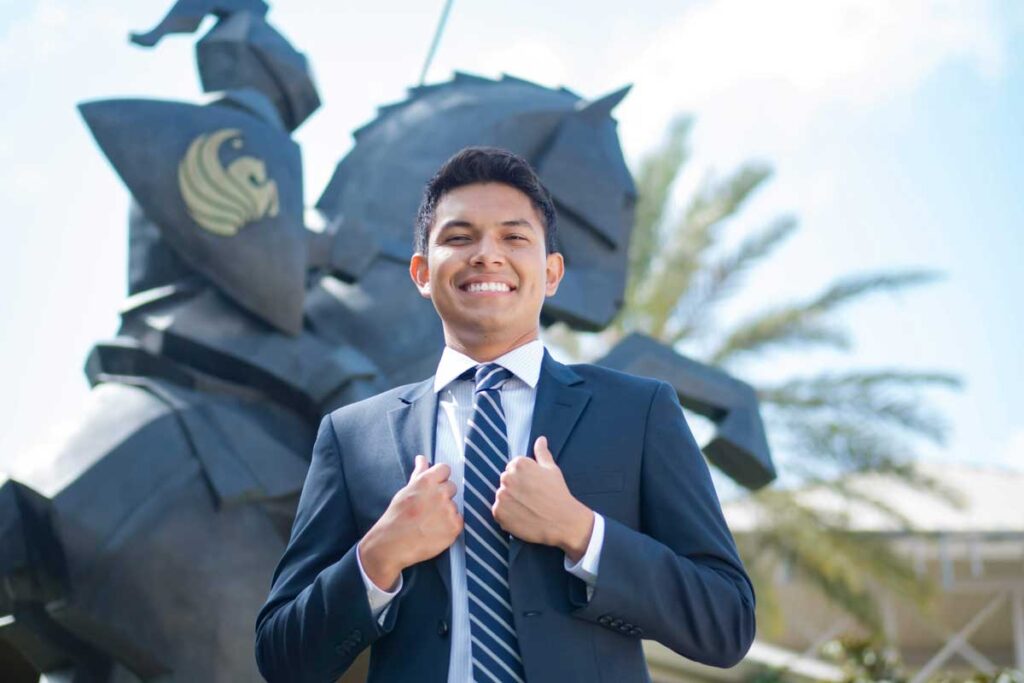 HSI Initiatives: Vamos Knights Fund
"The establishment of the Vamos Knights Fund is a significant step forward in strengthening our capacity to better serve our students, and it is especially meaningful that this new outlet of support was initiated by one of our very own alums," says Cyndia Muñiz '13EdD, director of UCF's HSI Culture and Partnerships. "With the continued support of our alumni, HSI Initiatives can expand its reach and positively impact the lives of many more students."
The Vamos Knights Fund will bolster the following HSI initiatives:
Scholarships for undergraduate students
Fellowships for graduate students
Internship placement stipends student programs (professional development and cultural immersion)
A fellows program for faculty and staff (professional learning)
Seed grants for faculty to implement HSI-focused research projects
"I hope that one of the things this fund helps achieve is allowing students to find that niche when they go to school," Sauri says. "I was fortunate enough that I already knew what professional development club to get involved with and got even more involved by helping start the Peruvian Student Association at UCF. But there are a lot of students who aren't from Florida or maybe don't speak English as their dominate language yet, so I hope this money helps them find their niche whether it be in a cultural organization or professional organization or a specific college at UCF to ultimately get their degree. We need more color in different professional fields and I hope the fund continues to be help them cross the finish line."
If you would like to support scholarships and resources for UCF's students, faculty and staff by donating to the Vamos Knights Fund, please visit foundation.ucf.edu/vamosknights.