As a young boy watching planes take off and land from Tahiti International Airport, Quentin Fouliard dreamed not only of sitting in the cockpit to witness flight from a new perspective, but also of advancing change in the aerospace industry itself by making flight both faster and more efficient.
As the first graduate of the University of Central Florida aerospace engineering doctoral program, Fouliard is well on his way to achieving that vision.
Fouliard approaches every project with an ambitious goal – to challenge the status quo through an "it can always be improved" mentality.
"Air transportation has been here for many decades, but there are some stagnations in terms of speed due to inefficiency," Fouliard said. "Infinite possibilities exist with materials to invent anything you want, so there are ways to make future transportation more efficient and faster."
Fouliard worked on such improvements during his doctoral dissertation through a Department of Energy project, which focused on increasing efficiency of engine turbine systems through the improvement of sensor technology. Fouliard and his team developed smart thermal barrier coatings — thin layers of ceramics that protect turbine systems from extreme temperatures and oxidation. Pushing for efficiency, Fouliard developed a novel technique that allowed for a more accurate temperature measurement in such extreme environments.
Fouliard was specifically recruited to the new program by its director, Jihua Gou, who was impressed by the academic credentials Fouliard had built through studies in Spain and France before landing at UCF as a visiting researcher in 2015.
"Quentin had a very strong academic background including bachelor's and master's degrees in materials science engineering, with impacting research topics on materials and structures for high-temperature conditions," said Gou. "He came in knowing which courses he wanted to take to further develop his skills. We helped him bring that to the next level."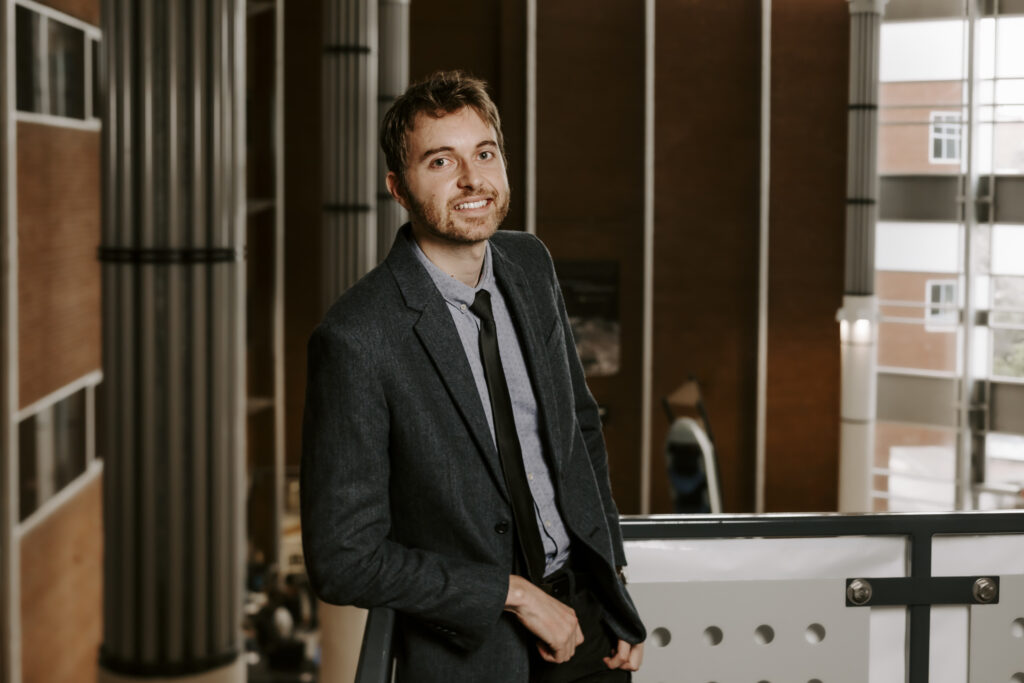 Launching a Doctoral Degree in Aerospace Engineering
Fouliard's work is just the first example of the kind of impact UCF hoped to achieve when developing its doctoral program. Though the program was envisioned as early as the university's inception in 1963, resources and staffing to launch it were lacking for decades. The Space Coast's booming aerospace industry finally created the demand for a doctoral program.
With industry leaders like SpaceX and Boeing building operations on the Space Coast, UCF faculty recognized an opportunity to further train students in the industry and more importantly retain talent in the Corridor region.
"Education is driven by professional opportunities and there are other graduate programs in aerospace," said Gou. "Without an aerospace engineering Ph.D. program here, students would go out of state for their degree."
Since the program's inception, students from across the country have recognized the unique opportunity it offers, with 250 applying to the program last year alone. Today, there are 34 students in the program, with more to come in the following years.
As a Florida High Tech Corridor Matching Grants Research Program recipient working together with HB Polymer Company LLC in 2014, Gou knows from firsthand experience how vital this type of collaboration can be. Gou believes the aerospace engineering program can similarly serve the local industry and build the aerospace economy by providing companies in the Corridor with expert, qualified students to hire upon graduation.
For the program to succeed, Gou believes it needs to anticipate the needs of the industry giants that currently call the Corridor home, not just the startups.
"If you look at the Silicon Valley, their strategy is different since it's mostly startup companies," Gou said. "In Florida, we have all the big companies, but we need to understand them and their needs. We are in the best location. The Corridor is another Silicon Valley."
Fouliard agrees with the approach, noting that collaboration along with practical studies and hands-on experience, is what will be the foundation of future aerospace innovation in the Corridor region.
The Future of Engineering
While working to establish two industry patents and progressing toward his third, he relied on collaboration with local companies to discuss options, brainstorm ideas and ultimately, come up with the best solution to meet their needs.
"Hypersonic, high-temp materials – everything we're doing at UCF – that's the expertise we need in the region," Fouliard said. "This program targets the right technologies and research to make it possible to provide the needed workforce."
As he finishes his research, Fouliard is interested in staying here in the Corridor, what he calls the birthplace of commercial aviation. He will continue his mission to push the aerospace industry into a more efficient future and hopes, one day, to share his experience with future researchers in order to cultivate the next generation.