When we look back on 2020, we'll remember it as the year of face masks, physical distancing and global quarantines. But when mechanical engineering alumnus Adam Jones, '13, reflects on 2020, he'll remember it as the year he worked with the winning team at the Indianapolis 500.
"It's a pretty wild experience," Jones says. "Winning the 500 is something a lot of drivers — and engineers — go their whole career without doing."
Although professional racing driver Takuma Sato sped the car across the finish line, Jones made sure the engine was perfectly calibrated during the final stretch of the race. The UCF Knight is an engineer for Honda Performance Development, the division of American Honda Motor Co. that designs and manufactures high-performance racing engines. In this role, he serves as the trackside engine calibrator for Honda's IndyCar program.
"It's my job to fine-tune that last .5-1% of performance from the engine, set it up for the driver's and team's preferences, and to make sure that it's operating within the performance and durability envelope that the rest of our Honda engines operate in," Jones says. "As a trackside engineer, I'm the last line of making sure that the product we provide to our teams operates as it should."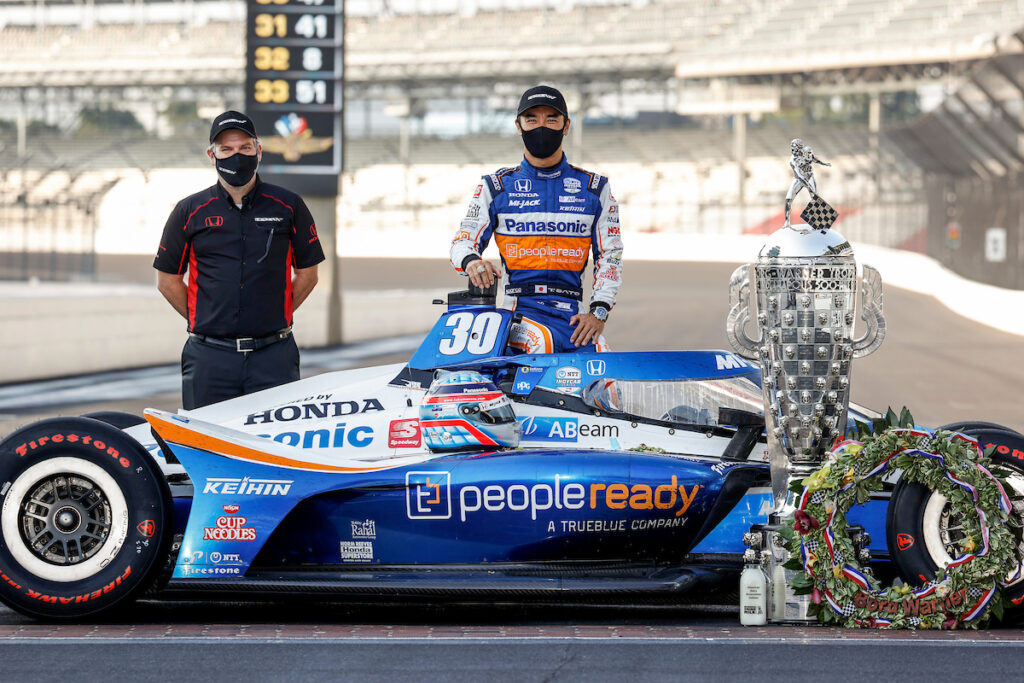 Indianapolis 500: The Winning Team
Jones has worked with racing teams and drivers outside of the IndyCar series, which culminates in the Indy 500, but has spent the past three seasons with Sato and his current team, Rahul Letterman Lanigan Racing. The team is owned by the 1986 Indy 500 winner Bobby Rahul, businessman Mike Lanigan and former late night talk show host David Letterman. For Jones, working with this team has been a great experience, even during the pandemic.
"Even without the fans there the Indianapolis Motor Speedway is electric on race day," Jones says. "The team I represent Honda with, Rahal Letterman Lanigan Racing, are the best group of guys in the paddock, in my opinion. They make me feel like part of their team every day. Takuma himself is a legend in Japan."
Long before he worked with a racing legend and now two-time winner of the Indy 500, Jones was an auto mechanic, tinkering on cars and even racing them every now and again. When the Orlando native decided to go back to school to earn an engineering degree, UCF seemed like the natural choice. He was particularly attracted to the Society of Automotive Engineers, which boasts both formula- and Baja-style race teams. The time Jones spent in the SAE garage and in the MAE classrooms helped him land a job that many students dream of.
"A lot of people think you have to know someone in the business to land a job like this. I didn't have any of those connections," Jones says. "I've been building and racing cars, mostly Hondas, my whole life so I'm sure that helped. But getting my degree from UCF and participating in Formula SAE while I was there were important steps that helped me get my foot in the door."