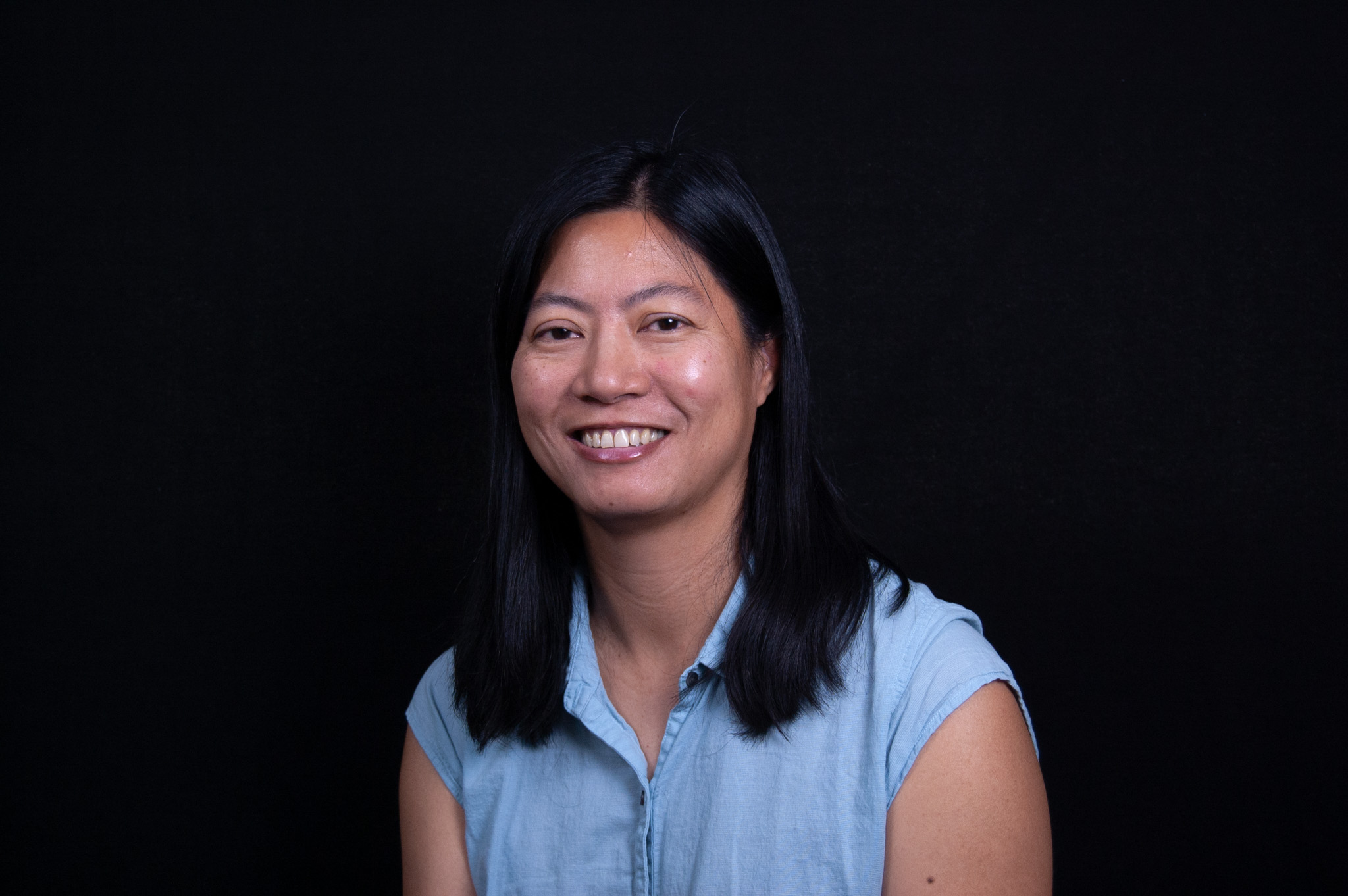 Associate Professor
Lead of the Disability, Aging and Technology Cluster
Email: hjhuang@ucf.edu
Phone: 407-823-4843
Office: ENG I, Room 416
Office Hours: Tuesdays, 1-4 p.m. and Thursdays, 9 a.m.-12 p.m.
Helen J. Huang received her B.S. in materials science and engineering at the Massachusetts Institute of Technology, and her M.S. and Ph.D. in biomedical engineering at the University of Michigan, Ann Arbor. She worked at Michelin North America as a materials engineer prior to her graduate studies. She was a postdoctoral fellow on the University of Colorado NIH T32 Aging Grant, and an assistant research scientist in the Human Neuromechanics Laboratory directed by Daniel Ferris at the University of Michigan, prior to joining UCF in December 2015.
Huang directs the UCF Biomechanics, Rehabilitation, and Interdisciplinary Neuroscience Laboratory. Members of the BRaIN Lab team include students from biomedical engineering, mechanical engineering, electrical engineering, and biomedical sciences. The BRaIN team studies motor adaptation and neuromechanics of gait and locomotor tasks. Their research currently focuses on investigating brain dynamics underlying motor adaptation, gait, balance and interlimb coordination in young and older adults. The BRaIN team also works on developing robotic exercise devices for gait rehabilitation and fall interventions, and on developing new methods for recording and analyzing electroencephalography (EEG) and electromyography (EMG).
Biomechanics
Neuroengineering
Locomotion
Motor adaptation
Gait rehabilitation
Mobile brain imaging
Bradford, DE., DeFalco, A., Perkins, ER., Carbajal, I., Kwasa, J., Goodman, FR., Jackson, F., Richardson, LNS.*, Woodley, N., Neuberger, L., Sandoval, JA., Huang, HJ. +, & Joyner, KJ. (2022). Whose Signals Are Being Amplified? Toward a More Equitable Clinical Psychophysiology. Clinical Psychological Science, 21677026221112117. https://doi.org/10.1177/21677026221112117

Li, J., and

Huang, HJ

. "Small Directional Treadmill Perturbations Induce Differential Gait Stability Adaptation." Journal of Neurophysiology 127 (1): 38–55. (2022)

https://doi.org/10.1152/jn.00091.2021
Castano, CR. & Huang, HJ.

Speed-related but not detrended gait variability increases with more sensitive self-paced treadmill controllers at multiple slopes.

PLoS One 16,

e0251229 (2021). doi:

http://dx.doi.org/10.1371/journal.pone.0251229
Shirazi, SY.  & Huang, HJ.

Differential Theta-Band Signatures of the Anterior Cingulate and Motor Cortices During Seated Locomotor Perturbations.

IEEE Trans. Neural Syst. Rehabil. Eng. 29,

468–477 (2021). doi:

10.1109/TNSRE.2021.3057054
Li, J., Wang, P. & Huang, HJ.

Dry Epidermal Electrodes Can Provide Long-Term High Fidelity Electromyography for Limited Dynamic Lower Limb Movements.

Sensors 20,

4848 (2020). doi:

10.3390/s20174848
Shirazi, SY. & Huang, HJ.

More Reliable EEG Electrode Digitizing Methods Can Reduce Source Estimation Uncertainty, but Current Methods Already Accurately Identify Brodmann Areas.

Front. Neurosci. 13,

1159. doi:

10.3389/fnins.2019.01159
Wang X, Li J, Song H, Huang H

, and Gou J (2018) Highly Stretchable and Wearable Strain Sensor Based on Printable Carbon Nanotube Layers/Polydimethylsiloxane Composites with Adjustable Sensitivity.

ACS Applied Materials & Interfaces.

doi: 10.1021/acsami.7b17766

Banks CL, Huang HJ, Little VL, Patten C (2017) Electromyography Exposes Heterogeneity in Muscle Co-Contraction following Stroke. Frontiers in Neurology – Stroke. 2017;8. Article 699. doi: 10.3389/fneur.2017.00699
Shadmehr R, Huang HJ, Ahmed AA (2016). A Representation of Effort in Decision-Making and Motor Control. Current Biology. 26(14):1929-34. doi: 10.1016/j.cub.2016.05.065.
Kline JE, Huang HJ and Ferris DP (2016) Cortical spectral activity and connectivity during active and viewed arm and leg movement. Frontiers in Neuroscience. 10:91. doi: 10.3389/fnins.2016.00091.
Snyder KL, Kline JE, Huang HJ, and Ferris DP (2015). Independent component analysis of gait-related movement artifact recorded using EEG electrodes during treadmill walking. Frontiers in Human Neuroscience. 9:639. doi: 10.3389/fnhum.2015.00639. PubMed PMID: 26648858.
Kline JE, Huang HJ, Snyder KL, and Ferris DP (2015). Isolating gait-related movement artifacts in electroencephalography during human walking. Journal of Neural Engineering. 12(4):046022. doi: 10.1088/1741-2560/12/4/046022. PubMed PMID: 26083595.
National Institutes of Health (NIH) / National Institute on Aging (NIA) R25, "Investigators from Novices, a Transdisciplinary Research Education Program to Increase Diversity (INTREPID) in Aging Research" Role: PI (one of the multi-PIs). 2023-2028

2021 UCF Reach for the Stars

2021 UCF Research Incentive Award

2020 UCF Luminary Award
2020 American Society of Biomechanics (ASB) President's Award
2020 National Science Foundation (NSF) CAREER Award, "CAREER: Leveraging electroencephalography (EEG) artifacts for multimodal neuromechanics"
Invited participant to the U.S. National Academy of Engineering China-America Frontiers of Engineering, 2019 
National Institutes of Health R01 for "Adaptation of Brain and Body Responses to Perturbations during Gait in Young and Older Adults," principal investigator, 2017-2022
National Institutes of Health Training in Grantsmanship for Rehabilitation Research Fellow, 2017
UCF Office of Research and Commercialization In-House Research Award for "Brain Dynamics of Losses of Balance during Walking," principal investigator, 2017
Society for the Neural Control of Movement (NCM), member

Institute of Electrical and Electronics Engineers, Engineering in Medicine and Biology Society member

American Society of Biomechanics member
Society for Neuroscience member
BME 6215: Advanced Biomechanics
BME 3211: Engineering Biomechanics
BME 6500: Bioinstrumentation
BME 6935: Topics in Biomedical Engineering